Getting It Right First Time programme to reduce unwarranted variation in the NHS grows
New specialities include acute and emergency medicine, cardiology, intensive care and mental health
Clinical leads announced for 12 specialities currently in progress
The Getting It Right First Time programme, designed to reduce unwarranted variation in the NHS, has almost tripled the number of clinical specialities it will work in, HSJ can reveal.
Following a £60m investment in the programme by the Department of Health, announced last November, the programme will now be rolled out to cover 20 specialities in addition to the 12 it already investigates.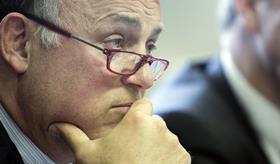 Work on the 20 has not yet begun as NHS Improvement is still recruiting new clinical leads to head up each speciality. It hopes to complete this process by March.
The new specialities in the programme are:
acute and general medicine;
intensive and critical care;
emergency medicine;
mental health;
imaging and radiology;
cardiology;
geriatric medicine;
outpatients;
respiratory;
dermatology;
neurology;
rheumatology;
gastroenterology;
diabetes and endocrinology;
pathology;
renal;
anaesthetic and perioperative medicine;
dentistry;
breast surgery; and
plastic surgery and burns.
Clinical leads have also been announced for the 12 specialities the programme is already working in:
Orthopaedics: Professor Tim Briggs; orthopaedic spinal surgery: Mike Hutton; and neuro spinal surgery: Justin Nissen.
General surgery: John Abercrombie.
Vascular: Professor Mike Horrocks.
Urology: Simon Harrison.
Cranial neurosurgery: Nick Phillips.
Ear, nose and throat: Andrew Marshall.
Paediatrics: Simon Kenny.
Oral and maxillofacial: Maire Morton.
Obstetrics and gynaecology: Rob Sherwin.
Ophthalmology: Caroline McEwen and Alison Davies.
Cardiothoracic surgery: David Richens.
Medical negligence litigation lead: John Machin.
The work on these 12 is already underway, with clinicians either leading deep dive investigations into individual trusts or drafting national reports to present the programme's findings and an action plan of changes and improvements.
A new formal Getting It Right First Time implementation infrastructure is also being developed to help trusts make changes. It is expected to "complement" the existing regional NHS Improvement footprint.
A spokesman for the GIRFT programme said the infrastructure strategy was still in development but said: "Essentially it will be GIRFT teams working on the ground with trusts to implement the changes recommended in the national reports. There is likely to be a mix of ways this will be done - national sharing of best practice, closer working between individual trusts, GIRFT working with professional bodies to encourage changes in practice, or possibly even changes in policy."
The programme is a partnership between the Royal National Orthopaedic Hospital Trust, which first hosted the pilot programme, and the operational productivity directorate of NHS Improvement. The project started as a pilot in orthopaedic surgery, and the Department of Health claims direct savings or benefits of £20m-£30m were made in 2014-15 as result.