CQC asked to review NHS's approach to "never event" incidents
Jeremy Hunt troubled that the number of serious mistakes is "not going down"
Health secretary concerned over the lack of "delivery mechanism" for safety improvements
Jeremy Hunt has ordered a review into preventable "never events" in NHS hospitals amid concern that the numbers of serious mistakes are not reducing.
HSJ has learned the health secretary has used powers under the Health and Social Care Act 2012 to direct the Care Quality Commission to carry out the investigation to identify what is preventing trusts from learning from mistakes that means incidents are repeated.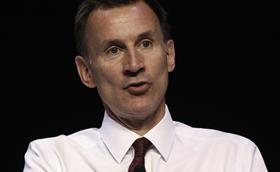 The review of never event incidents – defined as mistakes in patient care that are entirely preventable – is part of wider effort by the Department of Health to standardise safety processes to reduce variation in care.
Mr Hunt said earlier this month he was troubled by the lack of a clear "delivery mechanism" to mandate safety improvements that are known to work across the whole health service.
HSJ understands he is in talks with NHS Improvement, the CQC and NHS England over plans to establish a clinician led central committee that could mandate processes, equipment and technology proven to save lives and reduce harm that all providers would be expected to adopt.
Its recommendations would be limited to a small number each year and focused on the most critical issues.
The CQC would then regulate providers against these recommendations to ensure they are adopted.
NHSI figures show the number of never events in 2016-17 reached 442 including 179 cases of wrong site surgery, 107 retained foreign objects, 59 wrong implants and 40 misplaced nasogastric tubes. Barts Health Trust had the highest number of never events that year with 11 incidents.
In 2015-16, there were 424 never events including 179 wrong site surgeries, 109 retained foreign objects, 49 wrong implants and 26 misplaced nasogastric tubes. The trust with the highest number of never events was Guy's and St Thomas' Foundation Trust.with 15 incidents.
The DH said the CQC review would provide "independent rigour" to examine what support trusts need to stop incidents from happening. The regulator is expected to deliver its final report in autumn 2018.
Mr Hunt told HSJ: "Every single one of these events is a tragedy for the patient involved, their family and the NHS. This review will help us understand what more we can do to support the NHS to reduce these events, and how we can learn from mistakes on the occasions where things do go wrong – helping us to make never events a thing of the past and ultimately make the NHS the safest healthcare system in the world."
Speaking at a recent patient safety conference, Mr Hunt said: "We are concerned that the number of never events in the NHS is not going down. We are discussing whether to set up a committee, led by clinicians, to look at mandating maybe one thing a month. Something that we know works and is going to save lives. It troubles me a lot that we don't seem to have a delivery mechanism."
The CQC said it would aim to share good practice from trusts who had learned from never events.
Chief inspector of hospitals Professor Ted Baker, said: "Real improvements to patient safety will only happen when transparency is prioritised and learning is shared. Working with NHS Improvement, the CQC will be reviewing what NHS trusts have done to establish robust safety systems, and to learn from mistakes when they do occur, as well as what the barriers might be to achieving this.
"The review will promote the positive work being done in trusts and will share learning and good practice, as well as identifying what additional support or guidance could help organisations to reduce the risk of things going wrong – and identifying where existing guidance may require revision.
"We are currently exploring how we might work with others, including patients who have suffered harm, to conduct this review. We will use the findings to produce a report in autumn next year."
Exclusive: Hunt orders inquiry into NHS 'never events'
1

Currently reading

Exclusive: Hunt orders inquiry into NHS 'never events'

2