Environment Agency documents reveal full extent of breaches by clinical waste firm
Anatomical waste stored outside refrigerators for more than six months
Environmental inspectors report "odour of decaying flesh mixed with chemical disinfectant"
Human body parts from NHS patients have been stored in unrefrigerated units for more than six months resulting in a smell of "decaying flesh" at a scandal hit waste management company, according to Environment Agency documents seen by HSJ.
Inspection reports from the regulator about the practices at facilities run by Healthcare Environmental Services reveal the gravity of the backlog of unprocessed waste from dozens of NHS hospitals, which built up over years.
The reports also confirm anatomical waste from NHS hospitals was not stored in fridges, despite HES boss Garry Pettigrew's previous assurances to the government and media.
Anatomical waste, which must be disposed off through incineration, includes amputated limbs, human liquids and body tissue.
It comes as hospitals continue to place waste in temporary containers at their premises while national chiefs enact contingency plans, following HES ceasing operations last month.
'Powerful odour of decaying flesh'
An EA report, dated 16 July last year from an inspection at the company's Normanton site in Yorkshire, revealed the facility's refrigeration unit – used for anatomical waste storage – was not working.
When EA officer Alan Johnston opened the door to the unit, he was met by "such a strong powerful odour of decaying flesh mixed with a highly intense chemical odour of disinfectant that I was unable to stay in the entrance to the unit for more than a few seconds".

Mr Johnston also found two containers of anatomical waste dated six months previously, which were not stored in the refrigeration units.
Other red lidded buckets, used for human remains, were spotted in the facility with blood leaking from them.
During another visit in July, EA inspectors found anatomical waste being stored outside the warehouse in "full sun and under black shrink wrap despite the prolonged and extreme high temperatures that the country [was] experiencing".
Mr Johnston wrote in his report: "Non-refrigerated anatomical waste has been evident in numerous recent inspections. Despite us telling the company to stop storing anatomical waste outside the refrigeration unit on numerous occasions the issue was evident again during this inspection."
Anatomical waste was also stored dangerously at the company's Newcastle site. During an inspection in February, EA officials found 14 carts full of anatomical waste stored outside the refrigeration unit.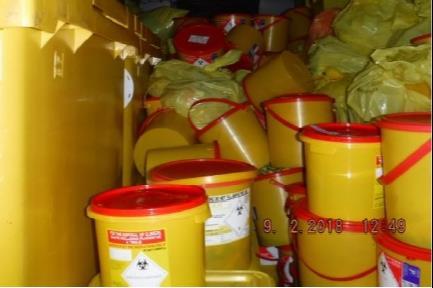 Shortly after HSJ broke the story about the stockpiled waste in October 2018, Mr Pettigrew denied NHS patients' remains had been stored inappropriately, telling the BBC: "Every single part that people are referring to there is dealt with securely, professionally, and any anatomical waste would be stored in fridges and at the same time prioritised for outward bound."
Sites overflowing with waste
The EA also found a number of other breaches during their inspections. These included:
Waste dating back to February 2016 had not been disposed off;
Waste containers not being stored upright, and some having toppled over;
Pallets with waste stacked too high and lacking details of weight, date, and waste type; and
Hazardous waste being stored outside the building.
At the time of the July inspection, the EA officers estimated the amount of waste at the Normanton site to weigh more than 356 tonnes. The site was licenced to store 70 tonnes.

Concern was also raised over the way containers with cytotoxic and cytostatic waste (which contains toxic chemicals) was stored.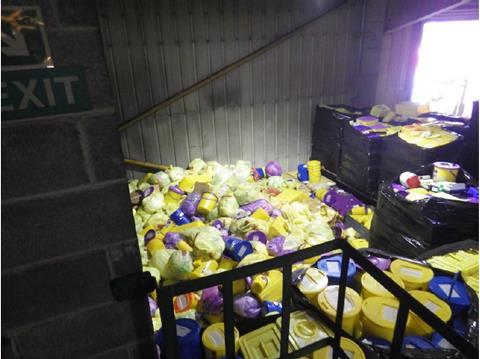 Outside the facility, inspectors found problems with the site's sewer, which allowed liquids to escape from drains and enter the neighbouring property. The Environment Agency closed sections of the site through regulatory notices shortly afterwards.

Inspection reports dated September 2018 from the company's Newcastle site found containers potentially containing powerful drugs vulnerable to damage and spillages, which could cause contamination to people and the environment.
Hazardous waste was stored precariously, and different types of waste were mixed together.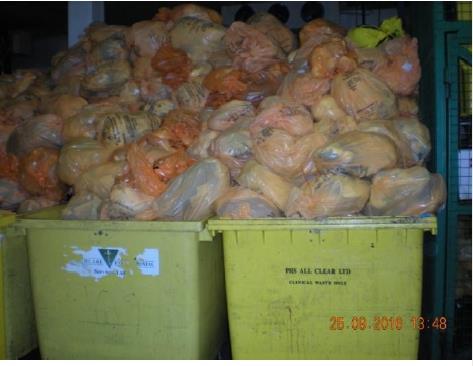 A "strong odour" was recorded at and around the facility. The site's manager was also found not to hold the appropriate waste management certificate.
Trusts move onto new provider for clinical waste
HES is subject to a criminal investigation by the Environment Agency over its breaches.
The company, based in Shotts, Scotland, has made its 400-odd staff redundant. However, it has not yet gone into administration, making it harder for staff to claim redundancy money.
This week, staff sent an open letter to Mr Pettigrew, appealing for wages owed to be paid.
When approached for comment, Mr Pettigrew directed HSJ to previous statements in which he has said there is a lack of incineration capacity in the UK. This has been denied by the government.
Hospital trusts formerly served by HES, of which there are thought to be just under 50, have moved to a new contract with Mitie, while the government is reviewing the way clinical waste contracts are procured by the NHS.
An EA spokesman said: "HES has significantly and repeatedly breached its environmental permits by storing excess waste inappropriately at a number of its sites.
"In addition to our enforcement activity to clear the sites, we are undertaking a criminal investigation."
HES history
HES' England based operations were warned by the EA on at least 43 occasions for breaching environmental permits between 2015-2017. The Scottish Environment Protection Agency also recorded at least 67 permit infringements at HES' facilities based in Shott and Dundee.

2014 Warnings issued in Scotland, including a "gross" breach of permits and "major" non-compliance for a "spillage of blood and other items".

2015 The EA recorded five minor environmental breaches at the firm's Newcastle, West Yorkshire and Cheshire facilities. The majority of the minor non-compliance issues were due to "general management" and "storage" handling issues.

2016 The EA warned HES for "significant" breaches, while SEPA recorded problems at the Dundee plant. The EA recorded 13 breaches across the English facilities, more than double the previous year's total.

2017 The annual number of EA permit breaches rose to 25.
Downloads
PDF, Size 1.32 mb

PDF, Size 1.06 mb

PDF, Size 3.2 mb
Source
Environment Agency documents
Source Date
July and September 2018