Trusts performing poorly against four hour target face new tough regulatory measures
Trusts could be put in new "A&E special measures" if they do not improve by June
Worst performing trusts face new weekly performance meetings with regulators
Trusts performing poorly against the four hour target could be placed in a new "A&E special measures" if their performance does not improve by June, HSJ has learned.
The tough new regulatory action is part of NHS England and NHS Improvement's drive to get the system compliant with the 95 per cent waiting time target by March 2018, a letter sent to trust leaders said.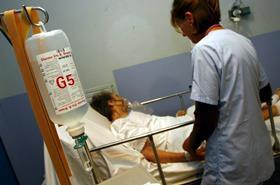 Trusts will be put into one of four groups based on their emergency department performance under the new approach, the letter said. Trusts in group one, the most challenged areas, face weekly meetings with system leaders before Easter to discuss "local system recovery and action plans".
The letter, seen by HSJ, added: "If [a struggling system] fails to deliver improvement by June, consideration will be given as to whether they will be placed in A&E special measures to ensure patient safety.
"The plans will be monitored weekly by NHS England and NHS Improvement regional directors, with systems meeting with Simon Stevens, Jim Mackey and [national leader for A&E improvement] Pauline Philip before Easter to discuss implementation plans," it continued. The letter did not set out more details on how the new intervention would fit with other special measures regimes.
The four groups are:
Group one: Systems with longstanding challenges and the highest level of intervention and support.
Group two: Systems with low levels of performance and a high volume of breaches that require regional intervention and support.
Group three: All systems not in groups one, two or four that will be monitored by the region via urgent and emergency care elements of their STPs.
Group four: High performing systems that are delivering consistently.
London trusts have been placed in the following groups
Group one: Lewisham and Greenwich Trust.
Group two: London North West Healthcare Trust; Barts Health Trust; Barking, Havering and Redbridge University Hospitals; Royal Free London Foundation Trust; North Middlesex University Hospital Trust; The Hillingdon Hospital FT.
Group three: Croydon Health Services Trust; Whittington Health Trust; Kingston Hospital FT; Imperial College Healthcare Trust; University College Hospitals FT; Guy's and St Thomas's FT; St George's University Hospitals FT; Chelsea and Westminster Hospital FT.
Group four: Homerton University Hospital FT; Epsom and St Helier University Hospitals Trust.
The version of the letter seen by HSJ was only sent to London trusts by regional directors, but it suggests these arrangements will be replicated nationally.
Senior figures raised concerns that the measures would push hospitals to take risks to try and get their overall performance back on track.
One source in a hospital, who had seen the letter, told HSJ: "The document doesn't address the reasons why emergency departments have been missing the target but messages like this inevitably makes hospitals take risks to achieve a target. The problems that have been well documented this winter have not been addressed."
A number of national measures designed to get the system back on track against the headline accident and emergency four hour waiting target, which has become the key focus for system leaders, have been set out this month.
HSJ revealed that from April, sustainability and transformation fund money would only be made available to trusts hitting their A&E targets.
During 2016-17 it also depended on cancer and elective waiting time targets. HSJ understands NHS England and NHS Improvement have now effectively dropped routine financial penalties for many trusts in relation to elective and cancer waits.
Providers have also been told to ensure every hospital has a front door "streaming model" by October, linked to an additional £100m capital funding announced in the spring budget.
NHS Improvement has ordered trusts to reach 90 per cent of patients being seen in four hours by September, and the whole sector must reach 95 per cent by March 2018. The NHS mandate published earlier this week, however, included a slightly delayed target of the end of the 2018 calendar year.
NHS Improvement has been approached for comment.