Leading geriatrician warns drive to cut length of stay could risk patient safety
New society lead says readmissions and mortality rates must be closely watched
Warning comes as new study shows unprecedented rise in emergency readmissions
NHS England's drive to cut length of stay this winter could have damaging patient safety consequences without appropriate checks and balances, one of the country's leading geriatricians has warned.
The British Geriatrics Society's new president Tahir Masud, who began a two year term this month, told HSJ he supported the principle of NHS England's drive to cut length of stay, but warned the system could be near to a "nadir".
The warning comes after a Healthwatch England study this month found the number of patients readmitted to hospital within 30 days of discharge was growing "faster than before", with a nine per cent increase over the last 12 months alone across the 70 trusts it obtained data for.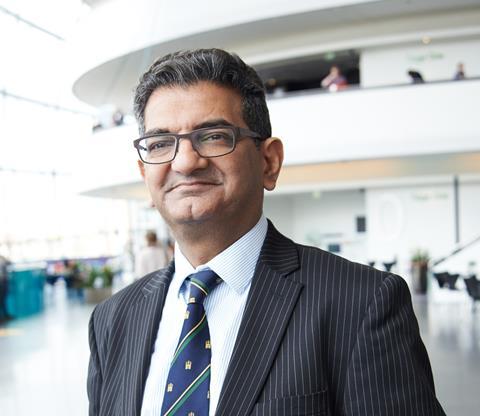 Professor Masud said trusts must closely monitor metrics such as mortality rates and emergency readmissions to ensure quality is not compromised.
His comments follow HSJ publishing internal data last month which revealed trusts were struggling to deliver an ambitious target to "free up" 4,000 beds by December by shortening the length of stay of patients who have spent over 20 days in hospital – the so-called super stranded patients.
Professor Masud also said a lot of the society's members felt "under great pressure", adding: "It's very important to get length of stay down [but] there has to be a nadir under which we don't go, otherwise it will lead to more harm."
The Nottingham University Hospitals Trust consultant continued: "Managers have to understand that length of stay cannot keep going down year by year without there being adverse consequences at some point. It's difficult to know [when this will be], probably not [now], but we soon will be getting to it…We need to be efficient, but not at the cost of quality."
He said "some trusts" were moving patients around too frequently because of bed occupancy pressures, which was placing frail older patients at "risk of harm, particularly delirium, and falls".
"It happens a fair bit around the country, especially in the winter," he said. "I think sometimes to a degree it's necessary, but sometimes managers feel it's the solution to the problem when it's not."
Bed moves in the middle of the night when the patient was asleep or "without explaining what's happening" led to "resentment and anger from patients and their families", he said.
Professor Masud also urged trust managers to better engage with clinicians on issues like strategies around super stranded patients. He said that guidelines, such as NHS Improvement's stranded patients' best practice guide, "rarely filter down to the clinicians [outside those in management roles]".
However, the Healthwatch England study said it was unclear why readmissions were increasing and called on NHS England to address data collection problems so the issue could be better understood (see box: Emergency readmissions rocketing – but why?).
The British Geriatrics Society also this month announced Sarah Mistry will succeed retiring chief executive Colin Nee in February.
Ms Mistry will leave her position at Bond, the UK network of non-government organisations working in international development, in late January. She also holds a number of senior advisory roles, including as a board member of the Scottish Power Foundation.
Emergency readmissions are rocketing – but why?
Healthwatch England obtained data from 70 hospital trusts from 2013-14 to 2017-18. It found:
Emergency readmissions rose from 397,952 to 484,609 over five years, a 22 per cent increase.
The number of emergency readmissions within 24 hours of being discharged rose 33 per cent from 53,538 to 71,398 over the same period.
The number of readmissions within 48 hours rose 31 per cent from 82,674 to 107,960.
Readmissions within 48 hours account for more than one in five – 22 per cent – of the total.
The report said: "Most troubling is that the sector still can't report on how many emergency readmissions were unavoidable and which ones could be prevented, or use this insight to learn.
"[NHS England has] given repeat assurances that it is developing better data to understand why readmissions to hospital within 30 days of discharge are rising.
"In March, the Department of Health and Social Care confirmed it is working with NHS England to agree a single definition for emergency readmissions, which will enable this to progress. However, as yet there is still no agreed definition and the data remains unavailable."
Source: Emergency readmissions - what's changed one year on? Healthwatch England policy briefing November 2018