National Emergency Laparotomy Audit reveals widespread variation in standards of care for thousands of patients
Patients operated on at night and after midnight had higher chance of death than those treated during the day
Almost a quarter of hospitals missing key targets to get patients to operating theatres within two hours.
Standards of care for patients needing emergency bowel surgery vary considerably based on the time of day they have their operation, a new audit has revealed.
Research by the Royal College of Anaesthetists looking at 187 hospitals and almost 25,000 patients identified widespread variation in care for patients having emergency bowel surgery. This variation is found between hospitals and within the same hospital and teams.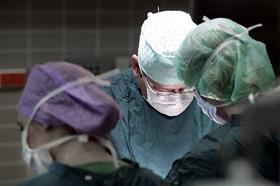 However, the audit also identified improvements in care with an estimated 300 lives saved due to falling mortality and £30m in savings from reduced lengths of stay.
The National Emergency Laparotomy Audit, published today, said: "The 'time of day' effect remains an issue, with patients undergoing the procedure during the day consistently receiving better care than those undergoing the procedure at night.
"Many hospitals are not meeting standards consistently. This means that one patient may receive good care, but the next one may not, despite being admitted to the same hospital under the same clinical team."
Data from hospitals across the country showed patients who had their surgery "out of hours" had a 14 per cent 30 day mortality rate compared to 9.2 per cent for those whose surgery was performed between 8am and 6pm. For patients who had surgery after midnight, the 30 day mortality rate increased to 17 per cent – almost twice the risk of those whose surgery was performed in daytime.
However, there was little variation in mortality on different days of the week for either admission or day of surgery.
The audit found 24 per cent of hospitals were missing the target for getting the most urgent patients to an operating theatre within two hours, while 22 per cent of hospitals were not admitting high risk patients to critical care after surgery.
Sarah Hare, national clinical lead for the audit, said: "Improvements have been made, however we must acknowledge patients should expect to receive the same level of high quality care, regardless of when and where their surgery takes place.
"Although we have made great strides since NELA reporting began in 2013, the inconsistency of care remains an issue we are determined to address. This report highlights the continued importance for clinicians, hospital managers and commissioners to work together to reduce variation in patient outcomes and overall standards of care."
The audit identified issues with the way services are organised. In smaller hospitals, "there was still a greater reliance on breast surgeons to provide emergency cover". A total of 43 hospitals with less than 360 beds had breast surgeons making up 60 per cent of their emergency surgery rotas. In medium and large hospitals, this reduced to 20 per cent.
Alongside identifying variation in care, the audit also celebrated significant improvements in the past three years. These included:
Reductions in average length of stay from 19 days to 17 days in 2016, saving the NHS £30m.
Thirty day mortality after an emergency laparotomy has fallen with an extra 300 lives saved each year compared to 2013-14.
Trusts have improved against key standards such as risk assessments before surgery, 24/7 operating theatre capacity and the use of standard pathways and protocols.
RCoA president Liam Brennan said: "This report highlights how sustained improvement in patient care can reduce the strain on NHS resources. Patients are now being discharged home an average of two and a half days sooner as a result of better care and hospitals are saving money as a result.
"With winter approaching we know that finding a bed for a patient can be a challenge in many NHS hospitals. Delivering high quality care and ensuring patients return home sooner is an important first step in alleviating this pressure."