Newcastle upon Tyne Hospitals FT becomes first teaching hospital to be rated outstanding by the CQC
Trust is second in the North East to be awarded the top rating, after Northumbria Healthcare was rated outstanding last month
Newcastle is led by Sir Leonard Fenwick, the NHS's longest serving chief executive
Newcastle upon Tyne Hospitals Foundation Trust has been rated outstanding by the Care Quality Commission, becoming the first teaching hospital in the country to receive the regulator's top rating.
The trust is the fifth in the country to receive the top rating, and the second in the North East after Northumbria Healthcare Foundation Trust was rated outstanding last month.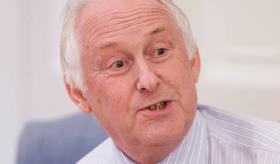 Newcastle was rated outstanding in the domains of caring, effective, responsiveness and well led, and rated good for safety.
Three of its sites – the Royal Victoria Infirmary, Freeman Hospital and the Dental Hospital – were judged outstanding, and the trust's community services were rated good.
Sir Mike Richards, the CQC's chief inspector of hospitals, said there was a "clear vision and strategy for delivering the highest standards of patient care" at the trust, and "open engagement and involvement of patients, staff and external partners".
"This is a trust that clearly has patient centred care as a priority, evidenced by consistent positive feedback," he added.
"They are prepared to innovate and work collaboratively with other trusts.
"The trusts respiratory consultants had written the national curriculum for consultant training – a great example of the trust leading in its field."
Sir Mike continued: "All of this demonstrates that this is one of the best trusts in England and I commend them on their outstanding rating."
Newcastle was asked by the CQC to make improvements in one area – to ensure that care documentation in the emergency care department and on some wards is fully completed and subject to clinical audit.
Sir Leonard Fenwick, who has run Newcastle and its predecessor organisations for 38 years, and is the NHS's longest serving chief executive, said he was "delighted" with the rating.
In a message to trust staff, he said: "This is a truly remarkable achievement and which has not before now been achieved by any other teaching hospital or tertiary provider.
"The excellent outcome achieved is a testament to each and every one of you and it is a celebration of the work you put in everyday to deliver 'healthcare at its very best with a personal touch'."