NHS Improvement has asked 30 providers to take part in governance reviews at other trusts
A number of specific reviews to be commissioned in coming months
Reviews will be supported by external consultants
Regulators have asked chief executives and chairs at "high performing" trusts to take part in reviews of other NHS providers.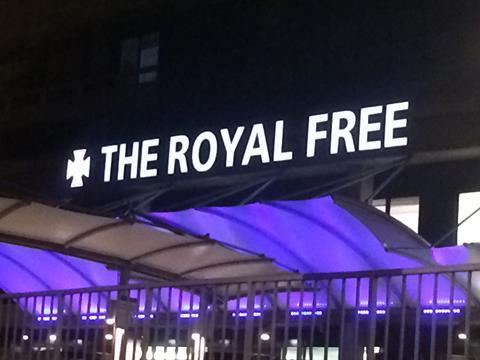 The Royal Free London Foundation Trust is one of around 30 providers that have been asked to take part in the reviews
NHS Improvement wrote to around 30 providers at the end of last week, after it was told that governance reviews could be improved through "a much greater element of peer input" in the process.
Chief executive Jim Mackey said a "number of specific" reviews would be commissioned directly by NHS Improvement in the next few months.
Governance reviews are generally targeted at trusts with financial or operational challenges, or where governance issues have been raised through an inspection process.
Mr Mackey wrote: "While we expect routine governance reviews commissioned by foundation trusts to continue to take place in accordance with the well-led framework guidance, in the next few months a number of specific governance reviews are to be commissioned directly by NHS Improvement.
"It would be very valuable to have chair and CEO input into these, as we could pilot the approach and learn from it. [The reviews] could involve up to two days of your input for the interviews and discussions, with feedback and reporting at times to be agreed.
"The governance reviews would be supported by external consultants for structure, quality assurance and consistency."
Leaders of the following trusts have been invited to take part
These are represented on the NHS Improvement chairs and CEOs advisory panel, and have a 'good' or better well-led rating or have the lowest risk rating from the CQC:
Sussex Community Foundation Trust
Hampshire Hospitals Foundation Trust
Nottingham University Hospitals Trust
South Essex Partnership University Foundation Trust
Central and North West London Foundation Trust
Royal Devon and Exeter Foundation Trust
Luton and Dunstable University Hospital Foundation Trust
Whittington Health Trust
Guys and St Thomas' Hospital Foundation Trust
Royal Free London Foundation Trust
Birmingham Community Healthcare Trust
Cambridge Community Services Trust
The Christie Foundation Trust
Birmingham Children's Hospital Foundation Trust
Kent Community Health Foundation Trust
Alder Hey Children's Foundation Trust
Nottinghamshire Healthcare Foundation Trust
United Lincolnshire Hospitals Trust
University Hospitals Birmingham Foundation Trust
Dartford & Gravesham Trust
Airedale NHS Foundation Trust
Leeds Community Healthcare Trust
Basildon and Thurrock University Hospitals Foundation Trust
Homerton University Hospital Foundation Trust
These are acute care collaborative vanguards with a 'good' or better well-led rating, or low risk rating, from the CQC:
Sheffield Children's Foundation Trust
Northumbria Healthcare Foundation Trust
Salford Royal Foundation Trust
These are other selected trusts:
Wrightington, Wigan and Leigh Foundation Trust
York Teaching Hospital Foundation Trust