Shared decision making and regular communication throughout a patient's surgery pathway would, a recent HSJ webinar argued, help the NHS move from the concept of waiting lists to one of preparation lists – and to a better way of dealing with the backlog. Claire Read reports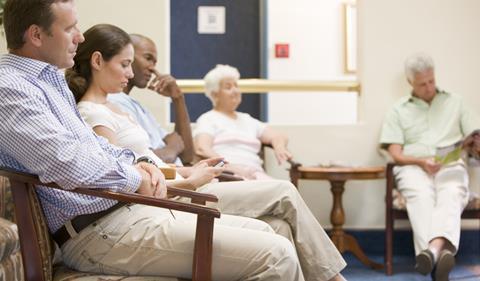 In September 2020, Dileep Lobo and his colleagues published an editorial in the British Journal of Anaesthesia on a topic which has only become more relevant in the months since: waiting lists.
Sponsored by
The paper made an attention-grabbing argument – that the NHS actually needs to do away with the concept. Instead, the writers contended, organisations need to make a move to the idea of preparation lists.
"If patients are going to wait for an operation, we need to try and optimise them in order to reduce complications and improve outcomes," says Professor Lobo, a consultant surgeon at Nottingham University Hospitals Trust and professor of gastrointestinal surgery at the University of Nottingham.
There is also a need, he contends, to find out whether a patient referred for a procedure still wishes to go ahead with it. "Some are quite happy not to have an operation because their symptoms are not bad enough. So the whole purpose of a preparation list is to make the patient a part of the whole process."
Professor Lobo was speaking at a recent HSJ webinar supported by ADI Health. The event formed part of HSJ's Elective Care Recovery Virtual Series, and considered how the NHS could move from a focus on waiting to one on preparation – and whether such a shift could support better management of the backlog.
For Jugdeep Dhesi, the first step in achieving such a shift will be creating better understanding of a patient's entire surgery-related journey. "There's a need for a patient-centred whole pathway approach as opposed to thinking about this purely in terms of the surgical or anaesthetic intervention," argued Dr Dhesi, consultant geriatrician at Guy's and St Thomas' Foundation Trust.
That pathway, she pointed out, begins in primary care when someone presents with a condition for which surgery might be an option. And it's here she argued patient partnership should start.
"What we really need to do is to build that shared decision making process right at that outset, when we start to talk about referring in for a surgical consult, as opposed to referring in for surgery," said Dr Dhesi, who is also deputy director of the Centre for Perioperative Care, a Royal College of Anaesthetists-led initiative to support multidisciplinary work in the area.
"[We need to open] the doors for a shared decision making conversation around benefits, risks and alternatives to surgery."
Given that research shows as many as 20 per cent of patients choose not to go ahead with a procedure once all the benefits and risks have been discussed, such shared decision making could be an important way of managing the backlog in a more efficient and patient-centric fashion.
But alongside the need to prepare patients such that they can make an informed choice about not going ahead with a procedure is the need to prepare those for whom surgery feels like the right choice.
"Prehabilitation is in vogue these days, and it's not only physical prehabilitation, but also psychological preparation of the patient," said Professor Lobo. "We also have the opportunity to introduce a lot of lifestyle modification intervention such as smoking cessation and reduction of alcohol intake. And very often this serves as a teachable moment for the patient because they realise that if you can stop smoking or reduce alcohol for an operation, they can do that for the rest of their lives as well."
It was a reflection that touched on the potential for involving professionals throughout the health and social care system in supporting patients who are waiting for surgery. As Layla McCay, director of policy at NHS Confederation, put it: "A system challenge needs a system solution."
"What we really want to do is figure out how we can work across the whole of the NHS but also other parts of the system – social care, the voluntary sector – to help people while they're waiting, get the right communications so that so that they know what's going on, the right opportunities to be able to optimise their health as much as possible while they're on those lists."
Could digital be one means of providing that sort of communication? For John Eaglesham, chief executive of ADI Health, the answer is a definite yes. The company offers a patient engagement platform called MyPathway and Mr Eaglesham argued such software is well placed to "provide a constant connection to the patient, to monitor how things are changing over time, and to allow them to make informed decisions. It may be as simple as stop, go, delay or it might be a more nuanced type of decision".
"The underlying philosophy is that it's patient-centred and that provides continuity," he added. "The integration point is really the patient experience itself, and that can sometimes span multiple conditions, multiple organisations, multiple domains. Centring the information around that patient journey rather than transactions with a particular organisation is key, and that is the opportunity really presented by a patient engagement platform."
"I think a digital pathway is useful because then patients don't need to come into hospital to have all these conversations," said Professor Lobo.
He continued: "In the past, surgeons have worked in silos and the moment they put a patient on the waiting list, they forget about the patient. And then the next time we see the patient is when they turn up for the operation.
"We need to have a seamless pathway for the patients where there's integration between primary care, surgeons, anaesthetists, perioperative medicine specialists, nurses, dieticians, and physiotherapists, and we all do the best for that patient."
An on demand version of this webinar is available.
If you had previously registered as a viewer for the event, visit here and log in, or check your email for the link to the recording.
If you hadn't previously registered, complete the form here. You will then be sent details on how to access the recording.