Health secretary says problems around poor investigations seen at Southern Health likely to exist across the NHS
Jeremy Hunt reveals plan to issue new guidance to trusts on how to carry out effective investigations
NHS complaints system is "unfinished business"
Jeremy Hunt has said "we are kidding ourselves" if people think the problems with investigations identified at Southern Health Foundation Trust do not exist across the health service.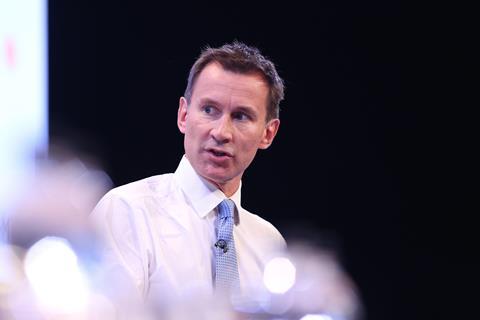 Jeremy Hunt said he was not interested in 'tick box' changes
In an interview with HSJ, the health secretary said he recognised the need to take action to improve the quality of the NHS's response to incidents and deaths, to ensure mistakes were prevented in future.
He said: "We saw at Southern Health that we have a very big problem in not having rigorous systems in place as to when to investigate unexpected deaths. We are kidding ourselves if we think that is just Southern Health; I think we will find there is a problem across the NHS."
Last December, a report by audit firm Mazars, following the death of 18 year old Connor Sparrowhawk, found "a lack of leadership, focus and sufficient time spent on reporting and investigating unexpected deaths of mental health and learning disability service users at all levels of the trust, including at the trust board".
In recent years investigations into poor care at Morecambe Bay and the Mid Staffordshire have highlighted the NHS's failure to investigate and learn from mistakes.
Mr Hunt said: "One of the things I am looking to do in the next six months is to give trusts much better guidance on when it is that they should have an investigation, when they should not and what that investigation should involve."
He said he believed most people wanted to do the right thing but wanted help to do it right. The new Healthcare Safety Investigation Branch, set up following the Kirkup inquiry into Morecambe Bay, has been tasked with drawing up an exemplar model of incident investigation.
The health secretary said: "The benchmark of success for me here is not actually whether the number of reported avoidable deaths goes up or down, because we want transparency and we want to encourage more transparency not less, but the amount of learning that happens from the investigations. This is the area where we can make the most difference."
Mr Hunt, who has met with many families who have suffered poor care in the NHS, accepted there were still problems with the complaints system. "I think it is unfinished business," he said.
"There are some spectacularly good changes that are happening in the trusts that really get safety. The change I am not really interested in is a tick box thing that says 'we replied to every complaint with 28 days'. The change that I am really interested in is trusts seeing this as a vital part of the learning and improvement process, and some trusts are doing that but where we are failing at the moment is mortality and death."
He accepted there was a danger that the new HSIB model could become a tick box model of investigation but said: "We have to be light touch about this. The thing about a learning culture is it has to come from inside, it has to be driven by the passion of individuals to do their job better so we have to be careful about imposing a system on places which haven't made that cultural change, because then it just becomes another piece of bureaucracy.
"We do want to make sure HSIB has the statutory powers it needs and [chief investigator] Keith Conradi thinks he can get things going with his current powers, but he would probably like more powers going forward and I am very sympathetic to that."
Hunt: I want to be health secretary until 2019
1

2

3

4

Currently reading

Hunt: Trusts to be told how to do better investigations

5

6

7