A system dedicated to continuous improvement and learning towards patient well-being and safety is the key to a sustainable NHS, writes Lord Prior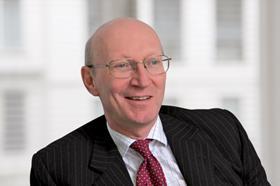 The NHS has some of the best hospitals and primary health care in the world and it is a world leader in medical education and research. Overall, it is a lean, low cost, fair system that spends money effectively and delivers services efficiently. It is by no means perfect but arguably it is the best value healthcare system in the world.
The NHS brand and its values are important to us as citizens as well as patients. The NHS is woven into our post war history and national identity - a part of the glue that holds our society together.
It may not quite be our national religion but it is more than just a service, an industry or an organisation. The NHS encompasses a moral, universal purpose: free healthcare for all based solely on need, in place of fear.
But this does not mean that the NHS should be immune from fundamental change. Indeed, "if we want things to stay as they are, things will have to change".
'One big thing'
The world has transformed since 1948. The population is much older with people living for many years with long term chronic conditions such as depression, dementia, diabetes and cancer, in part age and lifestyle related.
The line between health and social care is increasingly blurred and at long last we have recognised, in principle, parity between physical and mental health – but there is still a lot more to be done.
In 2000 the NHS itself recognised that it had "failed to keep pace with changes in our society". More recently in 2014, the NHS Five Year Forward View stated:
"Our values haven't changed, but our world has. So the NHS needs to adapt to take advantage of the opportunities that science and technology offer patients, carers and those who serve them. But it also needs to evolve to meet new challenges: we live longer, with complex health issues, sometimes of our own making".
Sustainable improvement and change in the NHS will only be achieved through a combination of intelligent transparency and a learning culture
Successive governments have tried a whole array of different and often bewildering and contradictory policy approaches to achieve change. Since I joined the NHS in 2002, they have spanned: targets, market forces and regulations.
Each of these policy approaches has had a significant positive impact; however, that has been at a cost – most damagingly, to alienate the clinical professions. They have worked against, not with, the grain of the NHS culture.
Isaiah Berlin famously distinguished between hedgehogs who know 'one big thing' and foxes 'who know many things'. He concluded that even Tolstoy, on whom his essay was centred, after a lifetime of searching, failed to find the 'one big thing' and so died, disappointed.
In the meantime however, I put forward a wholly unoriginal thought, but nevertheless my 'one big thing', that sustainable improvement and change in the NHS will only be achieved through a combination of intelligent transparency and a learning culture.
Evidence of data
Florence Nightingale is the country's best-loved and most well-known nurse. She was also a formidable statistician who collected and compared data across hospitals to make the case for tackling preventable harm. She called it "the sacred duty of applying statistics to reform the world."
150 years later, Florence Nightingale's words still ring true. First, produce the evidence: accurate, timely, relevant clinical data to reveal performance and outcomes.
Second, compare the evidence between similar clinical teams, organisations and population groups to reveal unwarranted variation.
And, third, learn from the evidence to drive continuous, usually incremental, improvement. The NHS has a major programme to both produce the evidence and reveal the variation.
Where there is unexplained variation, prevention strategies can be reviewed or clinical pathways or practice changed.
At the hospital level, Lord Carter has developed a broad suite of indicators or metrics to measure staff productivity, space utilisation, back office costs, purchasing efficiencies and other elements of performance. They will be brought together in the Model Hospital so that the Directors of all hospitals can assess the performance of their hospital against others.
At the local population level, NHS England have developed Right Care. This allows commissioners to compare the treatment of diseases like diabetes or chronic obstructive pulmonary disease in one similar population group with another.
Where there is unexplained variation, for example higher incidence of diabetes or a higher proportion of foot amputations, prevention strategies can be reviewed or clinical pathways or practice changed.
At the clinical level, Professor Tim Briggs has developed the Getting it Right First Time (GIRFT) programme to identify unwarranted variation in clinical practice.
In orthopaedics, for example, he found that deep wound infection rates following primary hip and knee replacement varied from 0.5 per cent to 4 per cent. This methodology is now being rolled out progressively to all specialties, led by senior clinicians supported by good data.
Power to change
This programme can, in aggregate, be loosely described as intelligent transparency. It is powered by high quality data. It will only be effective if it is based on an open, learning, improvement culture.
As the Health Foundation concluded in a thought paper: "the sources of competitive advantage are not technological, but behavioural." NHS Improvement has an important role to play here in spreading best practice and enabling an open NHS where learning, not finger-pointing or blame, is the norm.
If intelligent transparency is used as another stick in the top down performance management box it will fail: the data will be rubbished, gamed and largely ignored, certainly by clinicians.
As Don Berwick's report on patient safety set out: "the most important single change in the NHS […] would be for it to become, more than ever before, a system devoted to continual learning and improvement of patient care, top to bottom and end to end."
Intelligent transparency and a learning culture recognise the limitations and weaknesses of external influences on the NHS. It builds instead on the NHS ethic to put the patient first and the reputational peer pressure on doctors to 'be the best'.
It puts knowledge, evidence and the power to change more firmly in the hands of clinicians and managers, and less in the hands of politicians and regulators. If I were a hedgehog this would be my "one big thing".
Lord Prior is parliamentary under-secretary for health.