Jeremy Hunt agrees changes to ambulance response time targets
Call handlers given longer to assess calls
Professor Sir Bruce Keogh says current system "dysfunctional" 
A shake-up of "dysfunctional" ambulance response times has been approved by the health secretary today.
NHS England announced major changes to the performance targets, which medical director Professor Sir Bruce Keogh said had not been updated since the 1970s.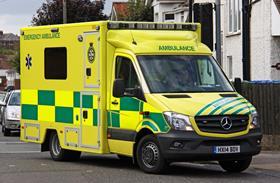 In a letter to Jeremy Hunt, Sir Bruce described the target of reaching 75 per cent of urgent calls, classified as "red one" or "red two" within eight minutes as an "anachronism" and set out the proposed changes.
The current system sees call handlers given one minute to decide whether a patient is a red or green category, with roughly 50 per cent falling into each category.
The eight minute clock is stopped once a vehicle has reached the patient, meaning trusts were incentivised to send multiple response vehicles to a call, with one-in-four ambulances then stood down.
Sir Bruce said: "The target can increase response times and cost lives. Multiple vehicles are often dispatched to the same patient in a race to 'stop the clock'. Every year hundreds of thousands of patients fail to get an immediate response because ambulances are dispatched in this wasteful and illogical manner".
The new rules will allow call handlers an extra three minutes to assess calls.
There will be four categories and the clock will only be stopped once a patient is being conveyed.
Category one calls, the most serious, will have a national standard of a seven minute mean response time.
At a press conference this morning, a panel including NHS England medical director for acute care Professor Keith Willett, West Midlands Ambulance Service Trust chief executive Anthony Marsh, managing director of the Association of Ambulance Chief Executives Martin Flaherty and NHS England national clinical director for urgent care Professor Jonathan Benger made the case that the new targets would be better for patients and staff.
The panel said the current system led to "hidden waiters" where a patient has been seen by a rapid response car or motorbike, stopping the clock, but which is then unable to take them to hospital.
Professor Benger said allowing call handlers more time to decide on an appropriate response meant ambulance services would become more efficient, and that the new rules would not lead to higher costs for trusts and their commissioners.
The recommendations were made after a trial across four different ambulance trusts, looking at more than 1 million patients. The work was overseen by Sheffield University.
The university said 6.5 per cent of the most severe 999 calls got a quicker response when call handlers were allowed the extra time.
A spokesman for NHS Improvement said the regulator agreed the changes.
When asked why the system had taken so long to address these issues, Mr Flaherty said: "This is a complete rethink of these services. These are 999 calls and you can't make mistakes."