Court ruling declared as a landmark decision that could affect future cases
Patient will die after life sustaining treatment is withdrawn
Judge says continuing care would be "disrespectful" to her wishes
A woman in the end stage of multiple sclerosis will be allowed to die after a landmark ruling by a judge who said it would be "disrespectful" to her wishes to keep her alive.
The case is the first time the Court of Protection has authorised the removal of life sustaining treatment. Lawyers involved in the case believe the decision could mark a shift in the way such cases are decided by courts.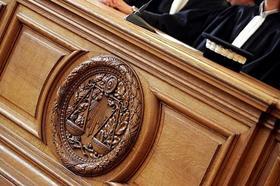 A House of Commons study earlier this year estimated there could be up to 16,000 patients in a similar, minimally conscious state in nursing homes in the UK.
Mr Justice Hayden ruled yesterday that 68-year-old "Mrs N", who is being cared for in the North West, should be allowed to die after her family applied to the court for permission to stop her artificial nutrition and hydration support.
David Lock QC, who was acting for the official solicitor in court, said he believed the ruling would lead to more cases coming before court: "This judgment will inevitably lead to a large number of relatives asking themselves what their relative in a minimally conscious state would have wanted. A number of those cases may subsequently come before the courts."
He added: "This is a hugely significant case which emphasises the patient must be at the centre of decision making and also highlighted the delicate compromise between objective best interests and substituted decision making."
Lawyer Rebecca Fitzpatrick, who acted for the care provider, said: "This is the first English case where the court has ruled that it is lawful for clinically assisted artificial nutrition and hydration to be withdrawn from a person in a minimally conscious state.
"Given the very serious issues involved, this is a landmark ruling arguably representing a shift in mental capacity law towards a substituted judgment test rather than a straightforward best interests test when deciding these difficult issues."
Earlier this month the court was told Mrs N has been fed through a tube since 2008 but there was no consideration of her interests under the Mental Capacity Act when that decision was made.
Her family described her as an independent woman who would not have wanted to be kept alive in her current state. In a rare move, the official solicitor, appointed by the court to act on behalf of people without capacity to act for themselves, supported the family's application.
The woman's daughter told the court that continuing treatment would be against her mother's wishes. She said: "I cannot emphasise enough how much the indignity of her current existence is the greatest contradiction to how she thrived on life and, had she been able to express this, then without a doubt she would."
Experts have agreed the woman shows signs of being alert and there was evidence that she tracks people and photographs of her family with her eyes, as well as fixing her eyes on people within her visual field.
Mr Justice Hayden said the case was not about a "right to die".
He said: "What is in focus here is Mrs N's right to live her life at the end of her days in the way that she would have wished.
"Ultimately, I have concluded that her wishes, so thoughtfully presented by her family, coupled with the intrusive nature of the treatment and its minimal potential to achieve any medical objective, rebut any presumption of continuing to promote life.
"Quite simply, I have come to the conclusion that it would be disrespectful to preserve her further in a manner I think she would regard as grotesque."
Arrangements will now be made for treatment to be withdrawn in line with national guidance and an appropriate care plan.

Shaun Lintern is a bureau chief for HSJ.