Jim Mackey says there were "very unreasonable expectations" from the government about how quickly deficit could be cut
He suggested financial targets were impossible because "we were already a billion out the day the deal was done"
King's College Hospital FT criticised for repeatedly missing its financial plans
The former chief executive of NHS Improvement said he was "irritated and disappointed" in himself for not being able to clear the provider deficit – but the sector was also "let down" by some providers such as King's College Hospital Foundation Trust.
Jim Mackey said there were "a lot of very unreasonable expectations" from the government about what could be achieved when he joined NHSI in November 2015.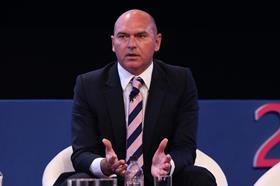 A government spending review settlement in 2015 was predicated on the NHS provider sector deficit being around £1.8bn in 2015-16, and that new funding would enable the sector to get into financial balance by the end of 2016-17.
But in the third quarter of 2015-16, the monthly run rate was suggesting a year end deficit of £2.8bn, which was subsequently reduced to £2.5bn with the help of additional one-off savings.
This meant the sector was starting 2016-17 from a worse position than anticipated.
Despite this, the financial reset document published by NHSI and NHS England in July 2016 stated the intention for the sector to end 2016-17 in run rate balance.
But in his exit interview with HSJ, Mr Mackey said this would have been a "bloody miracle" because "we were already a billion out the day the deal was done".
The sector is forecast to post a combined deficit of more than £600m in 2017-18.
Mr Mackey told HSJ: "It was impossible, before I arrived, absolutely… I'm deeply competitive and I would have liked to get it to nil. I am irritated and disappointed in myself for not having done that."
He said progress had still been made, however, and there was "nobody internationally that gets anywhere [near]" the level of savings delivered by NHS trusts over the last two years.
However, while most NHS trusts have been able to meet their financial plans, Mr Mackey said it "doesn't take many to let us down".
He said he was frustrated in his efforts to help King's College Hospital FT improve its position because the organisation "hasn't hit a single number that they've put to us in the two years I've been involved in NHSI".
He added: "They have been various forms of escalation that haven't improved their position, and that's going to have to be addressed.
"We've been round the loop lots of times about what has to happen in King's because the numbers are huge. And honestly, I don't think they have in my time hit a single set of their re-forecasted numbers.
"The team at NHSI that was involved in that was incredibly reasonable. More reasonable than you would expect about trying to reset a reasonable ask, and then get them to get into it and get ahead of it. And even then, they don't manage to get there.
"That's soul destroying for everybody. I'm not saying it's easy at King's but if that was happening in Sheffield then Andrew Cash would be kicking walls down. Mike Deegan [in Manchester] would be kicking walls down."
"I know Nick [Moberly, chief executive of King's] is working very hard but you'd expect more."
The London trust recently revealed a £31m deterioration in its position, and warned it could face a year end deficit of £96m.
Mr Mackey, who has returned to the chief executive post at Northumbria Healthcare FT, added: "As a provider now, I'm looking at those with huge deficits still and I'm irritated about it. We're trying really hard to deliver our control total as most people are, and when you see – it's not many of them – some of them every month just change their numbers… it's really bloody annoying."
King's College Hospital FT was approached for comment.
'Ruthless' rationalisation of regulators and CCGs could save £1bn, says Mackey
1

2

3

Currently reading

Mackey 'irritated' over ongoing provider deficits

4