NHS Improvement chief executive pledges early action to avoid repeat of last winter
Jim Mackey's comments come as system leaders finalise winter support package
HSJ understands package ahead of parliamentary recess still being finalised
Jim Mackey has admitted regulators were "surprised" by the fragility of the NHS system and how much central support trusts needed last winter – as system leaders attempt to finalise new measures to mitigate similar problems this year.
HSJ understands system leaders are hopeful of setting out a winter resilience package, which could include the long awaited ambulance response programme, this week or before Parliament's summer recess begins on 20 July.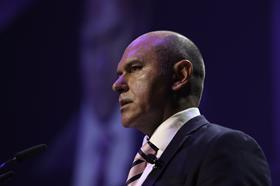 The NHS Improvement chief executive said he and colleagues had found a "surprising number of organisations looked very, very fragile at that peak time [last winter]". "They needed an awful lot of central, regional and partnership support," he added.
Speaking at an NHSI conference in London on Tuesday, Mr Mackey said: "We were all very anxious over that peak period about how difficult and fragile it was.
"It's a real reminder for me that I am on a mission before I finish [at NHSI later this year] to make sure we don't do that again. And that we start making decisions now to try and avoid that happening again."
Mr Mackey congratulated trust leaders for doing "fantastically well in difficult circumstances" last winter. He hinted an announcement on some funding could be made imminently, but he was clear it would not be an amount that would avoid this winter being "very difficult".
On NHSI's plans for the coming year, he said the board had "resolved… that we need more of a focus on quality".
"In the first two years we had a huge effort on money and performance… We can't lose those things but we need to make quality much more centre stage. I'd say our vision over the next six months or so will be developed along those lines," he said.