Fines to be re-introduced for 52-week breaches
Trusts and commissioners will both be fined £2,500 per patient
Nearly 2,500 NHS patients waiting longer than a year for treatment
NHS providers and commissioners will both face fines for each patient waiting more than a year for treatment, according to new plans.
NHS Planning Guidance released on Thursday stated both providers and commissioners would be fined £2,500 for each patient whose wait for treatment is more than 52 weeks.
In early 2017, fines for providers who breached the 52-week target were effectively scrapped by NHS chiefs.
There were 2,432 patients waiting longer than a year for treatment across the NHS in November 2018, the latest available figures show.
This is the highest total for a November since 2011, before then health secretary Andrew Lansley signalled a crackdown.
NHS England would be the commissioner worst hit by the new rules, as it had 258 patients who had breached the 52-week deadline in November.
Northern, Eastern and Western Devon, Kernow, and Leeds are the three clinical commissioning groups with the highest numbers of patients waiting longer than a year for treatment.
"Extremely long waiting times for elective treatment lead to poorer quality of care, are frustrating for patients, and present patient safety risks," the guidance stated.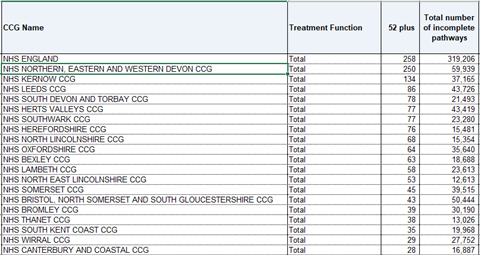 Further details about the fines will be set out when the NHS Standard Contract is published, which is expected to be in February.
Meanwhile, NHS Improvement is working with the Department of Health and Social Care to develop changes to the "cash regime" for providers, including reviewing interest payments on historic debt and new loans.
The guidance stated the regulators are also considering a process for "restructuring historic debt on a case-by-case basis once a recovery plan has been agreed".
At the end of the last financial year (2017-18) NHS providers owed the DHSC more than £11bn. Policy experts have suggested it would be "fantasy" to expect some of the debts to be repaid.
September deadline for new A&E units
Hospitals with full service emergency departments must have an ambulatory care unit fit to deliver "a comprehensive model of same day emergency care" by September.
The NHS Operational Planning and Contracting Guidance 2019-20 says the units must be open at least 12 hours a day, seven days a week.
The move is to support a new national target of increasing the proportion of acute admissions discharged on the day of attendance – so-called zero day admissions – from a fifth to a third announced in the NHS Long Term Plan.
The guidance says hospitals should specifically reduce avoidable admissions through the establishment of acute frailty services, with an emphasis on "skilled multidisciplinary teams delivering comprehensive geriatric assessments in A&E and acute receiving units".
The new same day emergency care data will be reported as a new type of activity: "A&E type 5".
The guidance also further underlines NHS England's desire to deliver significant reforms to targets from the clinical review of standards, which reports in the spring, suggesting reforms to the headline four hour A&E target could require changes to the NHS Constitution.
It says: "The existing NHS Constitution standards remain in force until new clinical standards for urgent and emergency care are set out in the clinical standards review, to be published in spring 2019, tested in the first half of the year, and implemented from October 2019."
The statement follows HSJ reporting last month that the four hour standard could be scrapped for patients attending A&E with minor ailments and speculation continues to grow about changes to the controversial target.
Source
NHS Planning Guidance