Vodafone Business has become the headline partner of the HSJ Awards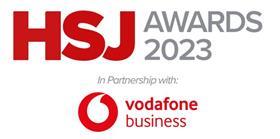 The HSJ Awards are the largest of its type in the world and the leading accolade for those successfully delivering innovative change in the NHS.
Vodafone Business UK's new Health division is designed to bring together connected health solutions and digital transformation to improve access to healthcare and create better patient experiences.
HSJ editor Alastair McLellan said: "HSJ is delighted to announce that Vodafone Business has become the headline partner of the HSJ Awards. Over the last four decades the HSJ Awards has grown to become the leading showcase of best practice in the NHS. The expertise and support that Vodafone Business will bring to the HSJ Awards will mean we can do even more to recognise, promote and celebrate the finest examples of NHS care."
"These awards are the greatest accolade in healthcare industry and a huge part of what we can do to say thank you to those who work in the sector," said Anne-Marie Vine-Lott, director of Health Division, Vodafone Business UK.
"Moving into the future, we look forward to working with the NHS to drive forward innovation and change using technology."
The 2023 HSJ Awards launched in March – and organisations have until 2 June to submit entries. Judging will take place over the summer and the awards will be presented in London on the evening of November 16.
This year's awards encompass 24 categories. They include four new categories: data-driven transformation; medicines, pharmacy and prescribing initiative of the year; modernising diagnostics; and reducing inequalities and improving outcomes for children and young people.