Sir John Oldham, Liz Sayce and Mark Saxton to join regulator
The three bring experience in system integration, productivity, disability and workforce
Three new non-executive board members have been appointed to the Care Quality Commission.
Sir John Oldham joins the regulator's board and will bring expertise in system integration and healthcare productivity. In 2013, he led an independent commission on whole person care for the Labour party when Ed Miliband was leader, which helped inform the party's health and social care policies. He was also national clinical lead for quality and productivity at the Department of Health and a member of NHS England's national quality board.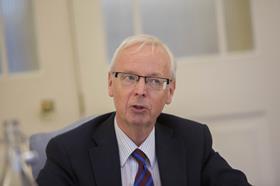 Sir John retains his position as adjunct professor at the Institute of Global Health at Imperial College.
Liz Sayce also joins the non-executive board. She has a history of championing the rights of disabled people, including lobbying for the introduction of Disability Discrimination Act in 1995 and heading up a controversial government review six years ago into disability employment. She was chief executive of Disability Rights UK until May 2017 and remains a member of the government's social security advisory committee.
The third appointment is Mark Saxton. He has a background in workforce and pay, chairing committees on these issues when he was a non-executive director of Yeovil District Hospital Foundation Trust. Prior to that, he held senior positions in HR and general management at FTSE and NYSE listed companies internationally and in the UK.
Ms Sayce and Sir John took up their roles at the start of the year. Mr Saxton will join on 1 March.
The new non-executive directors are replacing Michael Mire, Kay Sheldon and Jennifer Dixon who left last year.
CQC chair Peter Wyman said: "Our three new non-executive directors bring a wealth of diverse experience which complements the expertise we already have and will help us deliver our strategy."