NHS England has issued new guidance on transferring people out of hospital in order to tackle misunderstandings between NHS bodies and local authority social care departments.
The guidance on delayed transfers of care aims to provide clarity on when it is appropriate for a patient be discharged.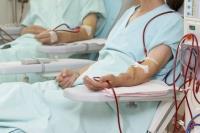 The document said there had been instances of social care departments not accepting discharge notification until a patient was medically fit, rather than when they were deemed "medically ready for discharge" by the NHS. This had prevented forward planning.
"This goes against both the spirit and the letter of the Care Act and its guidance, and is potentially risky for patients, given the evidence of physical decompensation from excessive acute stay," it said.
It added: "In return the acute trust has to ensure that it is not sending large numbers of notifications inappropriately causing large amounts of wasted work for social care whose reaction has in some cases been to wait to undertake assessment until the person is medically fit. This misses the point of the [Care Act]."
The paper also said there were often actions within the control of an acute trust that were not taken and warned that "too often" early discharge was seen as "'freeing up a bed' rather than acting in a patient's best interests".
Grainne Siggins, policy lead at the Association of Directors of Adult Social Care, told HSJ's sister title Local Government Chronicle the guidance aimed to bring down delays caused by both health and social care.
She said: "It reinforces the need for sign-off by the partners in terms of what a delay might look like."
However, one adult social care director, who preferred not to be named, said the guidance did not address the problem he experienced of NHS staff deeming patients fit for discharge without consulting social care.
There were also cases of delayed discharges being wrongly attributed to the council. For example, there were several cases where the paperwork was sent the wrong local authority and others where NHS staff changed their minds about whether the patient was ready or needed a continuing NHS care assessment.
NHS England and ADASS are holding regional events about the new guidance later this month.