System leaders set out plans to free up 2,000-3,000 beds using social care cash boost
NHS Improvement calculated an "estimate of the number of beds by provider that could be freed up"
Funding boost may "not have the intended impact" if trusts do not work with councils
National NHS leaders have set out estimates for how many beds individual trusts should be able to free up by working with local authorities on how to use the £2bn extra social care funding announced in the budget.
NHS Improvement set out the estimates in a letter that urged "every provider to actively engage with social care colleagues as a matter of urgency to… agree how this investment can be deployed to best effect".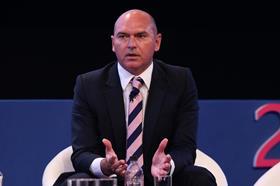 The regulator also warned: "We run the risk that the additional funding will not have the intended impact if NHS trusts do not work proactively with their social care colleagues."
The letter, signed by NHSI chief executive Jim Mackey, said: "We need as many as possible of the 2,000-3,000 blocked beds to be freed up and flowing smoothly going into winter.
"We have attached an estimate of the number of beds by provider that could be freed up if this investment is deployed to assist the NHS to best effect. This does not include patients who are medically fit for discharge and is therefore likely to underestimate lost capacity in many cases.
"We plan to make data like this available on a more regular basis to help you engage with local partners."
A NHS Improvement spokeswoman told HSJ that the figures "were not targets", but "estimates on which to help providers engage with their local authority partners to free up as many blocked beds as possible ahead of winter".
The move follows a commitment to inject £2bn into adult social care spending over the next three years, with £1bn available in 2017-18, in the budget announced by chancellor Philip Hammond last week.
NHS organisations will have no formal influence over how the new social care funding is spent in the next financial year, but HSJ understands a "tight accountability framework" will be introduced in 2018-19.
Providers have also been told to ensure every hospital has a front door "streaming model" by October, by drawing up bids to access £100m capital as part of measures to improve A&E performance, set out by NHS England and NHSI last week.
The measures are designed to help the system get back on track meeting the four hour waiting target. NHS Improvement has ordered trusts to reach 90 per cent of patients being seen in four hours by September, and the whole sector must reach 95 per cent by March 2018.
An NHS Improvement spokeswoman added in a statement: "NHS trusts must urgently start working with social care providers to ensure that the additional funding allocated in the budget is spent where it is most needed, and that the estimated 2,000-3,000 beds occupied by patients who could be better cared for outside of hospital are freed up for those who are seriously ill.
"We run the risk that the additional funding will not have the intended impact if NHS trusts do not work proactively with their social care colleagues."