The government has set out its priorities for the NHS during this parliament, including designating areas of the country as "transformation areas". NHS England will have to begin publishing new clinical commissioning group assessment ratings.
The Department of Health's Mandate to the NHS for 2016-17 refers to "transformation areas". This is understood to refer to parts of the country ahead on various forms of service reform, including new models of care, extended primary care access and seven day emergency services.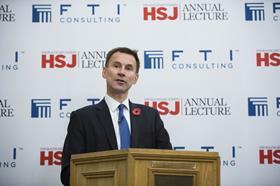 It says that in 2016-17 the NHS must "implement urgent and emergency care networks in 20 per cent of the country designated as transformation areas". The mandate suggests these areas will provide access to enhanced GP services including evening and weekend access; and "make progress on integration of health and social care, integrated urgent and emergency care, and electronic record sharing".
It suggests that by 2020, 50 per cent of the population will be covered by "new models of care".
The mandate, published today, says that by 2020 there will be: "Measurable reduction in age standardised emergency admission rates and emergency inpatient bed day rates; more significant reductions through the new care model programme covering at least 50 per cent of the population."
It is understood that in reality the "transformation areas" will not implement these changes at the same time, and are likely to be made up of areas covered by all of NHS England's vanguard sites, prime minister's challenge fund recipients and similar initiatives.
In relation to clinical commissioning group assessments, announced by health secretary Jeremy Hunt at the HSJ annual lecture earlier this year, the mandate says: "We expect NHS England to establish and maintain a new CCG assessment framework, to make it easier for local areas to see how their services and outcomes compare to others and make consistent improvements."
It says: "By June [2016 NHS England will] publish results of the CCG assessment framework for 2015-16, which provides CCGs with an aggregated Ofsted style assessment of performance and allows them to benchmark against other CCGs and informs whether NHS England intervention is needed."
It will: "Ensure a new Ofsted style CCG framework for 2016-17 includes health economy metrics to measure progress on priorities set out in the mandate and the NHS planning guidance including overall Ofsted style assessment for each of cancer, dementia, maternity, mental health, learning disabilities and diabetes, as well as metrics on efficiency, core performance, technology and prevention."
"By end of Q1 of 2016-17 [NHS England] publish the first overall assessment for each of the six clinical areas above," it adds.
A paper discussed at NHS England's board meeting today said it would consult on the new approach, which it called "a new local health system improvement and assessment framework", in January.
"The framework is our new version of CCG assurance, and it will apply from 2016-17," the paper said. "Its relevance reaches beyond CCGs, because it's about how local health systems and communities can assess their own progress."
It is understood NHS England directors hope the regime will allow CCGs and health economies to be judged by a wider set of measures than performance, and be more supportive of service transformation.
Other priorities and objectives for the NHS in the mandate include:
In 2016-17 "securing £1.3bn of efficiency savings through implementing Lord Carter's recommendations and collaborating with local authorities on continuing healthcare spending"; "delivering year one of trust deficit reduction plans and ensuring a balanced financial position across the trust sector"; and "reducing spend on agency staff by at least £0.8bn on a path to further reductions over the parliament".
Produce a plan next year with specific milestones for improving patient choice by 2020, particularly in maternity, end of life care – including to ensure more people are able to achieve their preferred place of care and death – and personal health budgets.
By 2020 "achieve a significant reduction in avoidable deaths [in NHS care] with all trusts to have seen measurable reduction from their baseline on the basis of annual measurements". While in 2016-17, "publish avoidable deaths per trust annually and support NHS Improvement to help trusts to implement programme to improve from March 2016 baseline."
By 2020 "deliver recommendations of the Independent Cancer Taskforce".