Professor Tim Briggs leading review to check progress in orthopaedic surgery
140 trusts to be revisited and data will be rerun
Next Getting It Right First Time review into general surgery expected in the summer
The leading surgeon heading a national programme to reduce unwarranted variation in NHS care and save £1.5bn is to revisit more than 200 hospitals to assess trusts' progress.
Professor Tim Briggs will visit the hospitals, run by 140 trusts, two years on from the publication of his report into variation in adult elective orthopaedic services in England.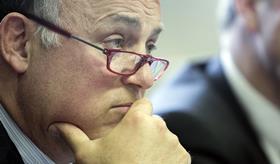 The review will rerun data to check the pace of progress made by trusts against recommendations in the report. Its methodology has since been rolled out across 31 other specialties as part of the Getting It Right First Time programme.
The study by Professor Briggs, who now chairs GIRFT and is NHS Improvement's national director of clinical quality and efficiency, has already led to efficiencies and savings of around £30m, with a further £20m forecast, the GIRFT team said in a statement.
Professor Briggs, a surgeon at Royal National Orthopaedic Hospital Trust, first looked at the provision of orthopaedic surgery in a review in 2012. NHS England then funded the GIRFT study as a national professional pilot, and another report by Professor Briggs was published in March 2015. The programme was clinician led and involved peer to peer reviews at trusts using data from sources including the National Joint Registry, the NHS Litigation Authority and the trusts.
The report highlighted "significant variation" in practice and outcomes including the availability of ortho-geriatricians, methods to track deep infection rates, and the availability of "ringfenced" orthopaedic beds and theatres.
Hospitals, even those in the same city, were using different types of fixation for implants, with the cost of loan kits varying among providers from £50,000 to £750,000 a year.
Similar studies were rolled out to 11 more specialties in 2015. The Department of Health announced additional funding of £60m for GIRFT last November and 32 specialties are now included in the programme.
Health secretary Jeremy Hunt said GIRFT was among measures intended to reduce infection rates and help save the NHS £1.5bn a year.
Clinical leads are currently being appointed to the 20 new specialties and they will work alongside a GIRFT project manager and data teams to analyse every trust performing the relevant work.
Trusts will complete a questionnaire before senior clinicians, managers and staff from related services such as physiotherapy and nursing discuss findings, provide context and share best practice with the clinical leads.
A national report will then be produced for each specialty, with examples of best practice and plans for change and improvement.
The findings will populate the "model hospital" dashboard, a recommendation from the Carter report to allow trusts to compare performances.
A GIRFT spokesman said trusts had been "almost invariably positive" about the reviews because they were being led by highly experienced and respected clinicians.
He said: "This is not someone in a suit telling them what to do. The clinical leads are not only passionate but are well respected and extremely experienced in that area.
"It's not just a case of finding someone to do a review but finding someone really experienced and passionate about identifying what the challenges are and what can improve."
John Abercrombie, a colorectal cancer and general surgery consultant based at Nottingham University Hospitals Trust, will produce the first of the new reports this summer, examining general surgery.
Reviews of vascular surgery, led by Professor Mike Horrocks, and urology, led by Simon Harrison, are expected to follow in the autumn.