The shortlist for the 2016 Patient Safety Awards has been revealed.
There were over 650 submissions for staff and organisations showing their continued commitment to improving patient safety across the NHS and enthusiasm to share innovation.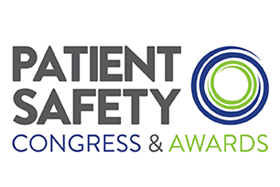 With increased pressure to deliver services with restricted budgets, it is even more important this year to recognise and reward outstanding practice and shine a spotlight on the achievements of not only the individuals and teams concerned, but organisations as a whole.
HSJ editor Alastair McLellan and Nursing Times editor Jenni Middleton said: "Congratulations to the finalists of the Patient Safety Awards 2016. This year the awards really highlight those organisations who are not only doing their day jobs, but going above and beyond every day to deliver exceptional patient care and safety. The projects submitted demonstrate those who are constantly innovating and overcoming challenges to put patients' needs first."
The winners will be announced at a ceremony on 5 July in Manchester.
Patient Safety Awards 2016 shortlist
Best Emerging Product or Innovation in Patient Safety
Cheshire and Wirral Partnership Foundation Trust
Devon Partnership Trust
Health and Care Videos
Nottingham University Hospitals Trust
Royal Cornwall Hospital
Salisbury Foundation Trust
The Queen Elizabeth Hospital Foundation Trust
Weston General Hospital
Best Emerging Technology and IT
365 Response
Cheshire and Wirral Partnership Foundation Trust
Deontics
East Lancashire Hospitals Trust
Isle of Wight Clinical Commissioning Group
King's Health Partners
Dorset Clinical Commissioning Group
Royal College of Paediatrics and Child Health
Sensium Healthcare
The Walton Centre
Best Organisation
Frimley Health Foundation Trust
Northumbria Healthcare Foundation Trust
Peterborough and Stamford Hospitals Foundation Trust
Salford Royal Foundation Trust
St Helens and Knowsley Teaching Hospitals Trust
Surrey and Sussex Healthcare Trust
Tees, Esk and Wear Foundation Trust
Western Sussex Hospitals Foundation Trust
Wrightington, Wigan and Leigh Foundation Trust
Board Leadership
Mid Cheshire Hospital Foundation Trust
Northumbria Healthcare Foundation Trust
Peterborough and Stamford Hospitals Foundation Trust
St Helens and Knowsley Teaching Hospitals Trust
St John's Hospice
Surrey and Sussex Healthcare Trust
Tees, Esk and Wear Foundation Trust
Western Sussex Hospitals Foundation Trust
Wrightington, Wigan and Leigh Foundation Trust
Cancer Care
Sponsored by Macmillan Cancer Care
Abertawe Bro Morgannwg University Health Board
Bolton Foundation Trust
East Lancashire Clinical Commissioning Group and Blackburn with Darwen Clinical Commissioning Group
Newcastle Upon Tyne Hospitals Trust
Nottingham Citycare Partnership with Nottingham Citycare Clinical Commissioning Group and Nottingham University Hospitals Trust
The Christie Hospital Foundation Trust
The Royal Orthopaedic Hospital Foundation Trust
Whittington Hospital
Wirral University Foundation Trust
Cardiac Care
Bradford Districts Clinical Commissioning Group
British Heart Foundation
Lincolnshire Heart Centre
Oxford University Hospital
Papworth Hospital
Royal Brompton and Harefield Hospital Foundation Trust
Sandwell and West Birmingham Hospitals Trust
Solent Trust
University Hospital Southampton Foundation Trust
Wessex Academic Health Science Network
Changing Culture to Improve Patient Safety
East London Foundation Trust
Essex County Council
Liverpool Women's Foundation Trust
North of England Commissioning Support
Royal United Hospitals Foundation Trust
Somerset Partnership Foundation Trust
Tameside Hospital
Topaz Ward
Weston General Hospital
Wrightington, Wigan and Leigh Foundation Trust
Clinical Leadership
Abertawe Bro Morgannwg University Health Board
Countess of Chester Hospital Foundation Trust
Leicestershire Partnership Trust
Royal Devon and Exeter Foundation Trust
Royal Surrey County Hospital
Salford Royal Foundation Trust
Salford Royal Foundation Trust with Bolton Royal Hospital and Wrightington, Wigan and Leigh Foundation Trust
Dementia Care
Barchester Healthcare
Calderdale and Huddersfield Foundation Trust
Cumbria Partnership Foundation Trust
Cwm Taf University Health Board
ENGIE
North Bristol Trust
North East London Foundation Trust
Tameside Hospital Foundation Trust
Windsor, Ascot and Maidenhead Clinical Commissioning Group
Education and Training in Patient Safety
Sponsored by Virtual College
Aintree and Royal Liverpool University Hospital, University of Liverpool and the Advancing Quality Alliance
Central London, West London, Hammersmith and Fulham, Hounslow and Ealing Collaborative Clinical Commissioning Groups
Chorley and South Ribble Clinical Commissioning Group
Cornwall Partnership Foundation Trust, Plymouth University, Royal Cornwall Hospital Trust, SUDEP Action and UCL Institute of Neurology
East Kent Hospitals University Foundation Trust
East London Foundation Trust
Leicestershire Partnership Trust
Northern Devon Healthcare Trust
Royal United Bath Hospitals Foundation Trust
Virgin Care
Improving Safety in Medicines Management
Buckinghamshire Clinical Commissioning Group
Mid Cheshire Hospital Foundation Trust
Nottingham University Hospitals Trust
Portsmouth Hospitals Trust with Wessex Academic Health Science Network
Sandwell and West Birmingham Hospitals Trust
Severn Valley Medical Practice
The Hospital for Sick Children
West Green Surgery
West Hampshire Clinical Commissioning Group
Improving Safety in Primary Care
Aintree Hospital
Bradford Districts Clinical Commissioning Group
Buckinghamshire Clinical Commissioning Groups
Cornwall Partnership Foundation Trust, Plymouth University, Royal Cornwall Hospital Trust SUDEP Action and UCL Institute of Neurology
East Surrey Clinical Commissioning Group, Tandridge District Council, Reigate and Banstead Borough Council, Office of the Police and Crime Commissioner for Surrey, East Surrey Domestic Abuse Service
Lewisham Clinical Commissioning Group
Pennine Acute Hospitals Trust
Portsmouth Hospitals Trust with Wessex Academic Health Science Network
Stowhealth
University of Nottingham
Managing Long Term Conditions
Alder Hey Children's Hospital
Bradford Districts Clinical Commissioning Group
Cornwall Partnership Foundation Trust, Plymouth University, Royal Cornwall Hospital Trust, SUDEP Action and UCL Institute of Neurology
Hospital Alcohol Liaison Service
Sandwell and West Birmingham Hospitals Trust
Severn Valley Medical Practice
South Tees Foundation Trust
United Lincolnshire Hospital Trust
Portsmouth Hospitals Trust with Wessex Academic Health Science Network
West Green Surgery
Patient Safety in Care of Older People
Sponsored by Ridouts
Buckinghamshire Clinical Commissioning Group
Enfield Community Services hosted by Barnet, Enfield and Haringey Mental Health Trust
Health Innovation Network and Age UK
Hertfordshire Partnership Foundation Trust
Locala CIC
Merseycare Trust
North East London Foundation Trust
Nottingham CityCare Partnership
Nottingham University Hospitals Trust
Royal Free London Foundation Trust
Patient Safety in Mental Health
Cygnet Healthcare
Hertfordshire Partnership University Foundation Trust
London Ambulance Service Trust
NHS Tayside
South West London and St George's Mental Health Trust
Tees Esk and Wear Valley Foundation Trust
West London Mental Health Trust
West Midlands Police/ West Midlands Ambulance Service/Birmingham and Solihull Mental Health Foundation Trust
Zero Suicide Collaborative
Preventing Avoidable Harm
Sponsored by Patient Safety Collaboratives
Barking, Havering and Redbridge University Hospitals Trust
Churchill Hospital
County Durham and Darlington Foundation Trust
CRAB Clinical Informatics
Derriford Hospital – Plymouth Hospitals Trust
Evelina London Children's Hospital, Guy's & St Thomas' Foundation Trust
Jeesal Cawston Park
Lancashire County Council
Oxfordshire Clinical Commissioning Group
Purple Surgical
Procurement: Patient Safety
Abertawe Bro Morgannwg University Health Board
Derby Teaching Hospitals Foundation Trust
Hertfordshire Partnership Foundation Trust
Ingenica Solutions
Lymphoedema Network Wales
Nottingham University Hospitals Trust
University Hospital of North Midlands
Technology and IT to Improve Patient Safety
Bioquell
Cornwall Partnership Foundation Trust, Plymouth University, Royal Cornwall Hospital Trust SUDEP Action and UCL Institute of Neurology
County Durham and Darlington Foundation Trust
Intelligent Health UK
King's College Hospital
Pennine Acute Hospitals Trust
The ROQAS Project
University Hospital of the North Midlands
Western Sussex Hospitals Foundation Trust with Patientrack