This year, breast symptom waits performance reached its worst level since the target was introduced
Worst performing trusts say staff shortages and increased demand were to blame
One trust ceases to provide service under increased pressure
Trust chief executive calls surge in referrals "the new normal"
A shortage of radiologists, pensions issues and rising demand have driven the worst breast cancer wait times for at least nine years, some of the worst performing trusts told HSJ.
Providers should see at least 93 per cent of patients urgently referred for breast symptoms — where cancer is not initially suspected — within two weeks, according to a target introduced in 2010.
But only 77.5 per cent of patients referred for breast symptoms between April and June this year were seen on time. This is the lowest level recorded since the target was introduced, HSJ analysis has discovered.
More than 10,000 patients waited more than two weeks for an urgent breast symptom appointment in this quarter, with 75 providers missing the target.
Trusts including The Royal Wolverhampton Trust, Blackpool Teaching Hospitals Foundation Trust and Dorset County Hospital FT said their two-week wait results had delayed the treatment of patients and affected their 62-day wait performance. None, however, identified any incidents of harm.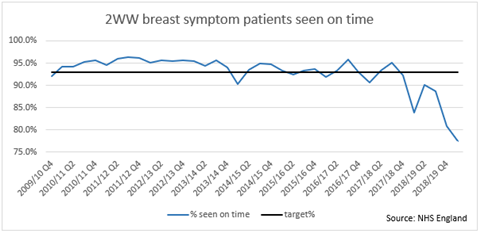 HSJ contacted the 10 worst performing trusts from April to June for insight into their results. NHS England declined to comment.
The worst performing trusts from April to June 2019 were:
| | Total referrals | No. seen on time | % |
| --- | --- | --- | --- |
| THE ROYAL WOLVERHAMPTON TRUST | 442 | 9 | 2.04 |
| BLACKPOOL TEACHING HOSPITALS FT | 309 | 10 | 3.24 |
| UNIVERSITY HOSPITALS PLYMOUTH TRUST | 346 | 25 | 7.23 |
| DORSET COUNTY HOSPITAL FT | 58 | 5 | 8.62 |
| HARROGATE AND DISTRICT FT | 165 | 25 | 15.15 |
| SHREWSBURY AND TELFORD HOSPITAL TRUST | 406 | 70 | 17.24 |
| STOCKPORT FT | 202 | 35 | 17.33 |
| UNIVERSITY HOSPITALS OF DERBY AND BURTON FT | 645 | 119 | 18.45 |
| WORCESTERSHIRE ACUTE HOSPITALS TRUST | 426 | 113 | 26.53 |
| THE NEWCASTLE UPON TYNE HOSPITALS FT | 387 | 110 | 28.42 |
Six trusts said workforce issues, such as the pensions crisis and a shortage of specialist staff, had squeezed their services.
Royal Wolverhampton, Dorset County, and Shrewsbury and Telford said they have struggled to fill breast radiography and other breast service vacancies.
Meanwhile, Stockport was forced to stop providing breast services in September because the trust could not recruit enough permanent radiologists. Since May, patients have been seen at the nearby Manchester University FT, East Cheshire Trust, and Tameside and Glossop Integrated Care FT.
Supply
Royal College of Radiologists vice president for clinical radiology Caroline Rubin said the UK was 30 per cent short of the radiologists required to keep up with demand for scans alone — and the gap between supply and demand was growing.
She said: "Many breast radiologists who started work with the introduction of the breast screening programmes 31 years ago are now retiring — for every two new breast radiologists entering the sub-speciality, three older consultants are retiring."
"Punitive" salary and pension bills, Dr Rubin added, were not helping. She said: "We know that consultants are not undertaking waiting list initiatives to deliver the two-week-waits and many are reducing their sessions which is impacting on two-week-wait capacity."
Three trusts — Harrogate and District, Dorset County, and Worcestershire Acute — said pension tax issues had affected their breast services.
Worcestershire Acute Trust recently toldHSJ pension changes had contributed to the worst breast referral results ever reported by the trust.
Meanwhile, Harrogate and District was forced to cancel evening clinics because of pension issues, according to the minutes of its May and June board meetings.
Chief operating officer Robert Harrison told HSJ the trust has taken measures, like setting up an extra ultrasound room, to improve results.
Demand
Six trusts — the Royal Wolverhampton, Blackpool Teaching Hospitals, University Hospitals Plymouth, Dorset County Hospital, Harrogate and District, and University Hospitals of Derby and Burton — said they had struggled to keep up with an increase in demand for breast and other cancer services.
Although breast symptom referrals are at their lowest level nationally since at least 2010, demand for other cancer appointments has risen dramatically. In 2010-11, 204,023 patients were referred for breast symptom appointments. By 2018-19, this number had fallen by 6 per cent to 191,768.
But demand for two-week referrals for all suspected cancers has more than doubled from 904,295 in the 2009-10 financial year to 2,245,524 in 2018-19, an increase of 148 per cent. Urgent referrals for suspected breast cancer have also more than doubled over the last nine years.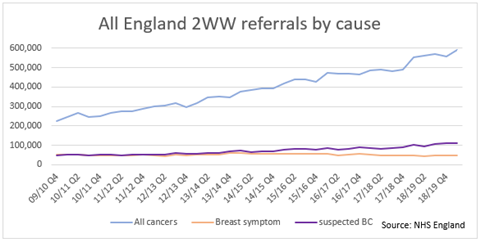 Although other cancer wait times have fallen below the operational target — like the two-week wait target for all suspected cancer — none have seen a fall as dramatic as that of breast symptom referral. Breast Cancer Now chief executive Delyth Morgan called on NHS England to investigate why waiting time performance was lower for this group.
Several trusts HSJ contacted are set to receive cash for new scanners, as announced by the Department for Health and Social Care on Tuesday. Blackpool said it had already invested in a new mammogram machine to improve services.
Blackpool — along with other trusts including University Hospitals Plymouth, Harrogate and District and SATH — said waiting times had significantly improved over the summer. The next batch of quarterly figures will be released in mid-November.
Other trusts continue to face serious pressure on their cancer services. At August's board meeting, Royal Wolverhampton's chief executive David Loughton called the level of activity "the new normal," according to official minutes. The trust has not met the 93 per cent target since February 2018.
The trust told HSJ it was actively recruiting and working with other providers to improve services.
'Anxiety and fear'
The news comes just weeks after the UK placed bottom in a league table of developed nations for cancer outcomes.
Macmillan Cancer Support said government investment in the breast workforce was needed to address "unmanageable" staff workloads. Director of policy Moira Fraser-Pierce said: "Our helpline receives calls every day from people who tell us how delays to starting treatment or seeing a specialist create added anxiety and fear.
"Anecdotally, we know from staff on the frontline that the current pressures are affecting their ability to provide adequate care for people before and after diagnosis.
"As the population ages, demand for services will continue to rise and put cancer waiting times under pressure. This makes it even more crucial for the government to address the workforce issue now."
Dr Rubin added: "The breast care and imaging community is trying to come up with solutions to ease workforce constraints, but ultimately we need more central government investment to increase staff numbers."
Update
On Monday November 4, MacMillan asked that their quote in this article be amended to make clear that, with the election having been called, it was: "even more crucial for the future [our italics] government to address the staffing challenges facing the NHS and social care, so we have a cancer workforce fit for the future."
HSJ National Cancer Forum
The HSJ National Cancer Forum takes place on 18 March 2020 at the Park Plaza Victoria in London. Taking place over one day, the forum will bring together the cancer community to discuss national policy and how to deliver the long-term plan at a local level. The event is free to attend for the relevant audience from the NHS. By attending you will gain clarity on and hear analysis of national policy from those responsible for shaping it, and understand how to implement it in your area. You will also explore the future of cancer care, and the innovations along the whole pathway.
Register your interest
Source
NHS England statistics, information obtained by HSJ