NHS Providers warns NHS could have a bed shortage of up to 15,000 beds
Says core targets for finances, A&E and elective activity are all "unrealistic"
Research suggests nearly half of trusts won't sign control totals
The NHS's growing bed shortage is the most pressing issue system leaders must address following a torrid winter, NHS Providers has warned, as it dismissed all of NHS England's core targets for next year as unrealistic.
NHS Providers chief executive Chris Hopson told HSJ it was estimated the beds shortage could be as high as 15,000 beds, 12 per cent of the system's total bed base.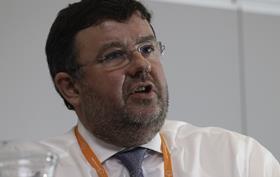 His warning comes as the latest NHS England data shows bed capacity fell year on year in each of the first three quarters of 2017-18 (see table below).
Meanwhile, an NHS Providers report published today argues there was "widespread scepticism" within the sector that any of the system's core targets for finances, accident and emergency, or elective waiting times – as set out in NHS England's mandate last week – were realistic.
The warnings lay bare the challenge faced by prime minister Theresa May to ensure the government delivers a "sustainable long term plan" backed by a "multi-year funding settlement", as announced earlier this week.
The NHS Providers report was based on a survey of 97 senior trust leaders. Its findings include:
Only 54 per cent indicated they would sign up to their 2018-19 control totals. Of these, just 35 per cent believed they could meet them.
Average 2018-19 cost improvement plans would need to be 5.7 per cent of turnover – the equivalent of £4bn – and a 20 per cent hike on what trusts are on track to deliver this year.
Only 5 per cent were confident they would hit the four hour A&E target next year.
Fifty-five per cent were worried they would not contain their waiting lists next year.
Mr Hopson told HSJ bed capacity should be the priority issue for system leaders to address in their winter review, which it is understood will build the foundations for next winter's plan.
He said: "What this winter has shown really clearly is there is insufficient capacity in the system. We need a really honest conversation about what the level of capacity is that we need."
He said a "finger in the air calculation" based on attendances, admissions and beds in the system the last time the NHS met the 95 per cent target in July 2015, and the increased attendances and admissions now, shows "we are somewhere between 10,000 and 15,000 beds short".
"Others have said it's closer to between 5,000 and 7,500 beds short. The point is that it's very obvious that we need to do a proper piece of work that identifies how short of capacity we are and then works out how much capacity to add and how we get there," he added.
Mr Hopson accepted many trusts currently have neither the physical space nor staff to add capacity. He said different areas would require different solutions. Some would need more acute beds, or community capacity or support for GP services, among other solutions, he said.
NHS England's most recent quarterly bed data, up to quarter three of 2017-18, shows the downward trend in bed numbers in recent years has continued, compared to the same period in previous years.
The data shows there were 128,413 available beds in the system in quarter three. This is 1.4 per cent less than the 130,521 in the third quarter of the previous year.
Acute and general beds also fell in the same period, from 102,745 in quarter three of 2016-17 to 101,326 in quarter three of 2017-18.
Decline in total beds from 2014-15 to 2017-18
| Year | Quarter | Total beds | Acute and general beds | Total beds % change year on year |
| --- | --- | --- | --- | --- |
| 2014-15 | Q3 | 134,573 | 103,865 | |
| 2014-15 | Q4 | 136,946 | 106,250 | |
| 2015-16 | Q1 | 131,812 | 104,096 | |
| 2015-16 | Q2 | 130,619 | 102,271 | |
| 2015-16 | Q3 | 130,298 | 101,974 | -1.8% |
| 2015-16 | Q4 | 132,194 | 104,021 | -2.1% |
| 2016-17 | Q1 | 131,282 | 103,249 | -0.8% |
| 2016-17 | Q2 | 129,972 | 102,061 | -0.2% |
| 2016-17 | Q3 | 130,521 | 102,745 | +0.8% |
| 2016-17 | Q4 | 131,994 | 104,554 | +0.5% |
| 2017-18 | Q1 | 130,417 | 103,002 | -0.2% |
| 2017-18 | Q2 | 128,256 | 101,043 | -1.0% |
| 2017-18 | Q3 | 128,413 | 101,326 | -1.4% |