Rate of out of area placements has remained relatively flat, but proportion of longer placements has increased
Almost all placements classed as "inappropriate"
Royal College of Psychiatrists "concerned" about findings ahead of national bid to eliminate inappropriate out of area placements
Concerns have been raised over the rising numbers of longer out of area placements for mental health patients.
Analysis of new data suggests the rate of total OAPs has remained relatively flat, but the proportion of those placements lasting more than 15 days has increased.
The data also shows that 96 per cent of OAPs were classed as "inappropriate", defined by NHS Digital as caused by a lack of available beds, as opposed to, for example, being admitted after presenting at accident and emergency while away from home.
The government has said that "inappropriate" placements should be eliminated by 2020-21.
A straightforward comparison in the overall numbers was not possible because the number of providers reporting their data has fluctuated.
However, the average number of OAPs per trust has remained relatively flat since NHS Digital started publishing data in September 2017. There were 645 OAPs in the latest monthly figures, for December 2018, which was an average of 6.9 per trust.
Meanwhile, the proportion of longer OAPs fluctuated between 45 and 50 per cent in the last four months of 2017, before fluctuating between 55 and 60 per cent in the same period in 2018.
The proportion of shorter OAPs, lasting fewer than 15 days, has decreased.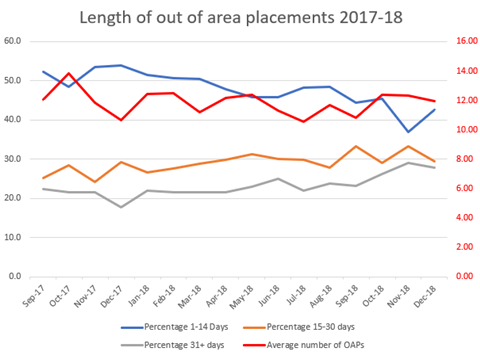 Adrian James, registrar for the Royal College of Psychiatrists, said: "These findings are very concerning. Three years into the five-year plan for reforming mental health services, the government is still way off its target of ending all adult inappropriate out of area placements by 2021."
Dr James added: "It is particularly concerning that the number of placements lasting more than 15 days is on the rise. Reasons for this could include overstretched community mental health teams finding it hard to visit patients many miles away or to plan for their discharge from hospital.
"It may also be that a patient's route back to their local community is blocked, either because a local hospital bed is not available or, more likely, because there is no community placement with appropriate support.
"We are calling for commissioners and providers to accurately assess capacity and demand in their areas to ensure services are as set up as best they can be."
Vicky Nash, head of policy at Mind, also warned there would be a "huge amount of work" needed to bring down the numbers and suggested "the figures are going in the opposite direction".
An NHS England spokesman said: "The NHS remains committed to eliminating inappropriate out of area placements so that patients get the right care, at the right time and as close to home as possible.
"Significant progress has been made in many areas, but there is more intensive work to do over the next two years with a minority of areas, who account for a large proportion of all out of area activity."