First substantial increase in the proportion of hip fracture patients over 60 waiting more than the agreed standard
Expert says delays can undermine "compassion and dignity"
Attributed to "increased pressure and strain the system is under" with "no quick fix"
More older patients are waiting too long in hospital before treatment for painful and crippling hip fractures, new data reveals, potentially undermining "compassion and dignity" for patients.
The proportion of hip fracture patients over 60 treated within the 36 hour national standard fell substantially in 2016, following a small decline in 2015. These were the first drops since 2007.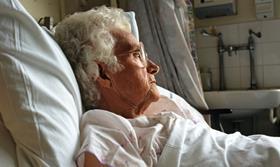 The decline is detailed in figures published by NHS Digital as part of the national clinical commissioning group outcomes indicator set.
The share of patients treated within 36 hours after hospital admission fell by 2.6 percentage points, to 72 per cent. In 2015, it fell by 0.6 percentage points. The target rate recommended by leading national fracture experts is 85 per cent.
This appears to mark the end of a long period of improvement. Separate monthly figures from 2017 from the national hip fracture database suggest the decline continued last year.
Hip fracture is one of the most serious consequences of falls in the elderly, with a mortality rate of 10 per cent at one month and 30 per cent at one year.
Experts said reasons for the problem in recent years may be a growing trauma surgery caseload and workforce shortages, causing general extra "strain" on the system.
Antony Johansen, the Royal College of Physician's geriatrician clinical lead for the national hip fracture database, said: "The [time to theatre data] is starting to curve in a direction we have not seen. It is a reflection of the increased pressure and strain the system has come under.
"We don't have any reason to think this is a transient thing, it is more a system trend. There is not a quick fix".
Information from the hip fracture database also shows the main reason cited for patients waiting too long is theatre capacity. More than 11 per cent of all hip fracture operations performed in 2016 were delayed due to a wait for theatre space, up from the previous year. This equates to almost 7,200 patients. A further 1,300 people (2 per cent) had their operation cancelled due to overrunning theatre lists.
Dr Johansen said although the number of deaths caused by hip fracture continued to drop year on year, the 36 hour standard was intended to protect "compassion and dignity" for elderly patients.
He said: "Spending two nights unable to get on to a bedpan is a really horrible thing to suffer through. It's incredibly painful and incredibly demoralising."
He also said the standard was a "canary down the mine shaft to measure hospital care for frail elderly people".
British Orthopaedic Association trauma group chair Paul Dixon warned the NHS was facing a "potential epidemic" in fragility fractures among older people, with hip fractures the largest share.
Hip fractures were a much "higher priority than 10 years ago [but] we seem to have reached a point now where we don't have the resources nationally to get all the patients through in the time we would like."
However, he added: "There are improvements that trusts can make that could improve things a lot without additional resources. Hospitals are not working in the most efficient manner."
The 36 hour standard is included in the NHS outcomes framework, and is a condition in the national best practice tariff for hip fracture care, which can mean trusts lose £1,330 per patient if requirements are not met. Dr Johansen said time to surgery was the most commonly missed of these standards.
The NHS Digital figures, published in December, also highlighted the areas with the largest proportion of hip fracture patients waiting longer than 36 hours, and those which saw the largest drop between 2015 and 2016.
The worst performing CCGs for offering timely hip fracture surgery in 2016
| CCG | Percentage of people receiving timely hip fracture surgery |
| --- | --- |
| North Manchester CCG | 40.1% |
| Wakefield CCG | 43.6% |
| North Kirklees CCG | 44.9% |
| Hull CCG | 48.0% |
| Bury CCG | 49.7% |
| Central Manchester CCG | 50.6% |
| Telford and Wrekin CCG | 51.0% |
| Lancashire North CCG | 52.9% |
| Thurrock CCG | 53.5% |
| North Lincolnshire CCG | 54.3% |
CCGs with greatest deterioration against surgery standard since 2015
| CCG | Percentage of people receiving timely hip fracture surgery, 2015 | Percentage of people receiving timely hip fracture surgery, 2016 | Change between 2015 and 2016 |
| --- | --- | --- | --- |
| South Tees CCG | 73.7% | 59.4% | -19.4% |
| Leeds South and East CCG | 71.0% | 57.2% | -19.4% |
| North Kirklees CCG | 56.2% | 44.9% | -20.1% |
| Basildon and Brentwood CCG | 69.1% | 55.2% | -20.1% |
| Hull CCG | 60.4% | 48.0% | -20.5% |
| North Lincolnshire CCG | 68.8% | 54.3% | -21.1% |
| Telford and Wrekin CCG | 65.7% | 51.0% | -22.4% |
| Thanet CCG | 76.7% | 59.5% | -22.4% |
| Slough CCG | 91.4% | 69.8% | -23.6% |
| Thurrock CCG | 74.6% | 53.5% | -28.3% |