Leading clinicians raise concerns about new 92 per cent bed occupancy target
Senior surgeons and emergency medics have patient safety and efficiency worries
NHS Providers warn funding needed before end of August to avert winter crisis
Leading clinicians have raised serious patient safety and efficiency concerns about a new 92 per cent bed occupancy benchmark for trusts.
The Royal College of Surgeons and the Royal College of Emergency Medics raised concerns following NHS England and NHS Improvement publishing guidance last month.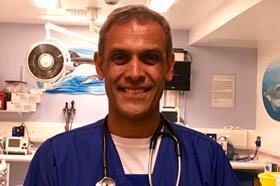 The Review of Winter 2016-17 set out several recommendations for the coming winter. It said: "Occupancy levels should be more actively monitored and actions taken to ensure that they remain below 92 per cent, to allow patient flow to be maintained to deliver A&E performance."
RCEM president Taj Hassan told HSJ: "It is extremely concerning that one recommendation seems to revise the safe level of bed occupancy up to 92 per cent. [The college] would have serious concerns about this as a metric of safety and we would be interested in understanding the evidence base behind this thesis.
"Our strong view is that the evidence base all points to 85 per cent as being the safer [and more efficient] level that all systems should be aiming for."
An RCS spokeswoman said: "Patient safety can be assured at higher levels [but] health experts agree, as a measure of average performance, levels should ideally be around 85 per cent for optimum efficiency."
However, the colleges welcomed the national focus on bring down bed occupancy. "At present, hospital overnight bed occupancy is around the 94.5 per cent mark, so bringing it down to 92 per cent would be a step in the right direction," the RCS spokeswoman said.
But they also argued NHS England's official statistics significantly underestimate current bed occupancy rates – a view support by Nuffield Trust research last year. The think tank's report said: "Occupancy at midnight is well below the peak number of beds needed on every day of the week. This highlights the serious limitations of a midnight census [used by NHS England] as a basis for understanding the real demand for beds."
NHS Providers also agreed with the colleges' view and said "setting a target higher than 90 per cent is a real concern". Chief executive Chris Hopson said the most pressing issue for trusts was that there was not enough bed capacity "to assure patient safety next winter".
He said providers needed £200m-£350m of extra funding and it would be required before the end of August to ensure trusts can find enough staff; plan effectively; and minimise inefficient, short term agency fees.
"That must be something we can find within an overall health budget of £124bn… Current capacity problems are exacerbated by the fact that there were around 4,500 escalation beds open at peak last winter and trusts tell us a lot are still open and have become part of day to day bed stock," Mr Hopson added
A spokeswoman for NHS England and NHS Improvement said "optimal" bed occupancy levels would vary between trusts and system leaders were in the process of agreeing "specific targets" for "each part of the country".
She said: "Optimal levels of bed occupancy will vary between trusts, dependent on the services they provide, ambulatory care capacity, ward configuration and a range of other factors.
"Local areas will obviously need to consider what is appropriate in their particular circumstances. Last winter occupancy increased, which is why, in order to put services on the best footing possible for a challenging winter ahead, it'll be important to help free up beds currently out of action as a result of delayed transfers to community health service or social care.
"That's why specific targets for doing so have now been agreed for each part of the country."
The RCS spokeswoman also warned bed shortages last winter "left staff, including surgeons, kicking their heels, waiting for beds to come available so they could operate.
"It also meant patients waiting longer in pain and discomfort for treatment. We can't allow that to happen again this coming winter."
Dr Hassan also said the "the recognition of the extent of the problems caused by delayed transfers of care and the serious issue of staff shortages in NHSI and NHS England's review of winter 2016-17 are most welcome".