There are less than two weeks left to enter the 2017 HSJ Awards.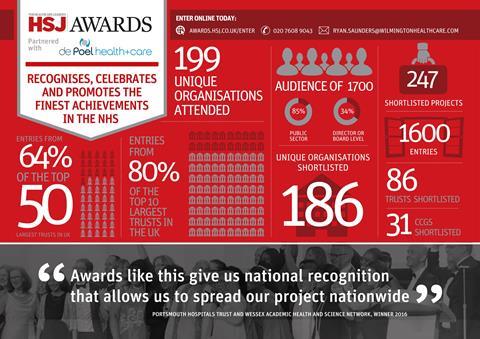 For 36 years the awards have recognised, celebrated and promoted the finest achievements in the NHS, and showcased them to the service's most influential leaders.

Over that time they have grown to become the most sought after accolade in British healthcare.
With 22 categories to choose from, the awards reflect the full spectrum of the NHS's services and challenges.
Here a six reason to enter your organisation for the biggest healthcare awards in the world:
It is the best way to highlight and showcase your team's achievements and how you have transformed patient care.
Life is tough in healthcare right now, staff are under pressure and it can be challenging to motivate your team of healthcare professionals – so let us do that for you.
They are free to enter.
It can be a great way to critique your project. Just entering will mean you will have to measure the success of your improvement project against our set criteria, and this will be helpful to you.
The awards help spread best practice across the UK – learn from others or help teach others through your innovation.
Position your trust as a frontrunner and receive national recognition from your peers.
The entry deadline is 18 July.
For more information about the categories and entry criteria, please download the awards brochure.