NHS England chief executive says NHS can be proud of achievements
Simon Stevens says delivery plan is "practical discussion" for year ahead
There are "unchallengeable facts" about NHS achievements
The NHS is trapped in a "reinforcing cycle" of increased demand leading to higher costs, NHS England chief executive Simon Stevens has said.
In an interview with HSJ, he highlighted the impact of increasing pressures, saying "hospital activity and costs have gone up faster than hospital income". This meant £2.4bn was spent on shoring up services rather than on transformation.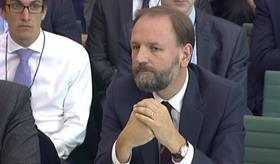 He added that "the NHS has not managed to escape the reinforcing cycle" in which "extra demand on hospitals" led to increased costs, "but as a consequence pre-empted some of the alternatives that would enable you step off that treadmill".
But he also stressed there were "unchallengeable facts" showing the NHS had made major advances in developing more sustainable services over the last two years.
As NHS England published the Next Steps for the NHS Five Year Forward View, Mr Stevens said the service could be proud of what has been achieved but it was often hard for people to appreciate this in the midst of the "battle".
He said the delivery plan included "quantitative results of the vanguards" for the first time. "What we're saying is there is a recipe we need to accelerate and intensify that across England and that's why we name the first nine places that are likely to go the full all-in through the accountable care systems," he added.
Drawing a contrast with the Five Year Forward View, Mr Stevens said the new document was not a "a philosophical argument about 2020" but a practical discussion about what can be achieved over the next 12 months.
He said: "What this is saying is we've got to be able to hold in our minds several simultaneous truths and the first one of those is that there is enormous pressure on staff. So start with that reality, be honest about it. Secondly, quite a lot of people can be proud of what they've achieved in two to three years. Sometimes you're not aware of it in the battle and you've just got to stand back and say what has actually changed here, and I think people will potentially be quite surprised when they see the mirror held up to what they've done and achievements in the last three years, and I think these are unchallengeable facts."
He added: "Thirdly, alongside the pressure and alongside that pride is a sense of possibility that we're not in the land of milk and honey but there are a set of quite concrete things that if we get them right they will make a difference."
Praising the progress the NHS had made on improving its financial position this year, he added: "We know we will put ourselves on the best possible footing for 2020-21 if we do some of the medium term and long term things that are in the 10 point efficiency plan laid out in this document."
Next steps for the forward view – what you need to know
1

2

3

4

Currently reading

Stevens: NHS has not escaped 'reinforcing cycle' of increased demand and cost

5

6

7

8

9

10