Simon Stevens sets out "consequences" of current funding deal ahead of the budget
Says government may need to "publicly, legally" abolish waiting time standards
Cancer and mental health targets will be put in jeopardy
NHS England chief calls for funding promise by Brexit campaigners to be honoured
The elective waiting list will balloon to 5 million patients by 2021 and ambitions to improve mental health and cancer care will be jeopardised unless the NHS gets a major funding boost in line with pre-2010 increases, Simon Stevens has warned.
The NHS England chief executive also indicated the government could be forced to "publicly, legally abolish patients' national waiting times guarantees" and it would become "increasingly hard to expand mental health services or improve cancer care".
His intervention, at the NHS Providers annual conference in Birmingham today, followed his call that ministers should increase NHS spending in line with promises made during the Brexit campaign to avoid betraying voters' trust.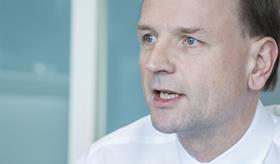 Mr Stevens used his speech this morning to "set out NHS England's independent assessment" and the consequences if more money was not made available, ahead of the budget on 22 November.
In spelling out the impact of continued constraint on spending, Mr Stevens cited the duty of candour, which health secretary Jeremy Hunt introduced in direct response to the 2013 Francis inquiry, and which places a statutory obligation on NHS staff to be honest, open and transparent.
Mr Stevens said the current funding settlement was "well short" of what was required to deliver the outcomes expected by ministers and patients, and 2018 – which marks the 70th anniversary of the NHS – was "poised to be the toughest financial year".
He said: "Our duty of candour requires us to explain the consequences of [the current funding settlement] to help inform the difficult choices which will be made in the years ahead.
"On the current funding outlook, the NHS waiting list will rise to 5 million people by 2021 [from just over 4 million currently]. That is an extra 1 million people on the waiting list. One in 10 of us waiting for an operation. The highest number ever.
"Of necessity, the NHS this year has reluctantly had to temporarily limit the annual increase in waiting list operations to protect funding for accident and emergency, mental health services and GP care.
"To decide that should now be a permanent decision would be to turn back a decade of progress [and would mean] the government would have to publicly, legally abolish patients' national waiting times guarantees."
His funding judgement was "confirmed" by research jointly published by the Nuffield Trust, the King's Fund and the Health Foundation, which said the NHS needs £4bn next year, he said.
Mr Stevens said: "[The researchers] show there is nothing out of the ordinary about needing such a sum. In their words: it would be a return to the average increases of the first 63 years of the NHS's history, as against the exceptional choking back of funding growth of the past seven years…
"On the current budget, far from growing the number of nurses and frontline staff, in many parts of the country next year [NHS hospitals and other services] are more likely to be retrenching and retreating."
Citing recent plans to pay bonuses to GP trainees who went to places which had historically struggled with recruitment, he said there was "a big and difficult conversation to have… about whether we differentially target support and potentially even pay for those disciplines, specialties and geographies where we really need more and faster expansion".
He named areas like Humberside and Lincolnshire, and services such as child and adolescent mental health and primary care, as areas in need of "faster expansion".
Setting out his argument that ministers should honour the promise made by the leave campaign during last year's EU referendum that Brexit could mean a £350m a week boost for the NHS, he also suggested some form of "transition" deal would be needed.
"There will be a transition post our departure from the European Union and, in the same way as there will be a transition from that departure, there will need to be a transition towards the kind of funding increases that were talked about during the Brexit campaign," he said.
Mr Stevens drew a comparison between the state of the nation now and how it was in 1948 when the NHS was established.
He said: "Sixty-nine years ago this country was facing a war weariness, an economy in disarray, the end of empire, a nation negotiating its place in the world and a need for massive housebuilding.
"At that point, this country stepped up and took a bold and optimistic view. Not only of a whole range of social topics but about the benefits of a national health service. Faced with similar challenges today, there is absolutely no reason for thinking that looking out to our 70th anniversary that should not, once again, be the choice that this country makes."