Matthew Swindells says discharges over the weekend are three-quarters lower than during the week
New metric being developed to compare weekend and weekday hospital discharge rates
Trusts will be given instructions and advice on improving weekend discharge over the next few weeks
NHS England will be telling hospital trusts to examine their weekend discharge rates, which are three-quarters lower than on Monday to Friday, Matthew Swindells has said.
NHS England's operation and information director, speaking at the e-Health Week conference on Tuesday, said the national commissioning body was developing a new metric focused on discharge rates.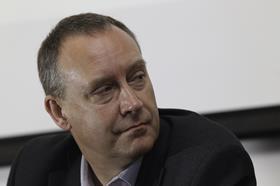 Mr Swindells said figures showed that discharge rates across NHS hospitals were, overall, about three-quarters lower on Saturday and Sunday compared to the rest of the week.
He said: "Why is it that we admit people to hospital for seven days a week and discharge them four and half?
"It's not a surprise that Monday in A&E departments is a disaster when most of the people that came in after four o'clock on the Friday afternoon are still there and no one has been discharged."
Mr Swindells said one of the national metrics for next year will be around closing the gap between weekend and weekday discharge rates, to bring it as close as possible to a 1:1 ratio.
He added: "It not just about hospitals; it's about community services, it's about GP services, it's around care homes and nursing homes taking patients on a Saturday, and it's about local authorities being available. That allows us to provide that integrated flow of care."
HSJ understands trusts will be given specific instructions and advice for targeting weekend discharge rates as part of an updated emergency care and capacity plan, which is expected to be published in the next few weeks.
The focus on weekend discharges is part of a broader shift at NHS England around the A&E front door, a central priority last winter, to improving discharges with a focus on the "super stranded" patients.
NHS national leaders have estimated the system will be 4,000 beds short for winter 2018-19.
There have also been national discussions about changing the payment system for A&E admission and discharges, including the marginal rate tariff, to better reflect costs born.
Exclusive: More clarity needed on tech funding, warns NHS top digital doctor
1

2

3

Currently reading

Swindells: Trusts must improve poor weekend discharge rates