Independent report heavily criticises culture and defensiveness at Shrewsbury and Telford Hospitals Trust
Kate Stanton-Davies died in March 2009 after failings at Ludlow midwifery led unit
The trust to hold an extraordinary board meeting to discuss the report's findings
A hospital trust's poor safety culture and defensive attitude towards complaints prevented it from investigating the avoidable death of a baby girl and learning lessons from mistakes in her care, an independent report has concluded.
An extraordinary meeting of Shrewsbury and Telford Hospitals Trust board will be held on Monday afternoon to consider the findings of the report into the case of Kate Stanton-Davies, who died after being born at one of the trust's midwifery led units in Ludlow in March 2009.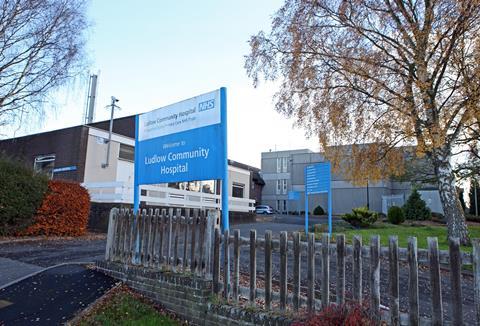 Previous reports have highlighted the poor care she received by midwives after her mother's pregnancy was wrongly labelled as low risk.
The latest report, by expert midwife Debbie Graham, examined the trust's response to the death and the complaints by Kate's parents Rhiannon Davies and Richard Stanton.
Ms Graham said the trust failed to investigate Kate's death or hold staff to account for their failings. A number of staff are now facing investigation, including former head of midwifery Cathy Smith.
Ms Graham said "the service rather than the service user was placed at the centre of the trust's response", adding that she was "surprised" to see a reference to serial complainants becoming "an increasing problem" in the trust's 2009 complaints policy. She said this was evidence of a "negative organisational attitude to complaints at that time".
The report said the trust's attitude "substantially contributed to the missed opportunities to learn" from what happened adding that "all of the concerns raised" by the family were later fully substantiated by external investigations.
She said the trust had weak clinical governance processes and showed "a lack of sympathy" in its letters to Kate's parents as well as "a lack of honesty, openness and an apparent unwillingness to listen".
Criticising the trust's former head of midwifery, the report said she should have recognised inadequacies in an investigation by a supervisor of midwives for the then Strategic Health Authority, as well as gaps in the trust's knowledge which should have been clear after a coroner's inquest in 2012.
The report said she should have raised these issues with senior directors at the time, adding: "This calls into question the head of midwifery's professional judgement. It can be argued that [her] apparent reluctance to accept that there remained uninvestigated midwifery practice issues in this case suggest a defensive attitude which prevented the lessons required to be learnt from this case from being learned."
According to the report there was disconnect between policy and the operational activity, which prevented good clinical governance being part of the trust's culture.
It said: "This lack of a safety culture resulted in Kate's death not being raised as a [serious incident] and a trust managerial investigation being instigated." It added that "the trust has therefore, to date, not held staff accountable for the standard of care and treatment provided for Kate and Ms Davies by the trust."
Ms Graham concluded: "It is the reviewer's opinion that the above mentioned failures were caused by organisational weaknesses for which the trust board are accountable…
"Without [Kate's parents] tenacity in seeking the truth of the circumstances surrounding Kate's death vital lessons would not have been learnt. For this, the trust is indebted to Ms Davies and Mr Stanton. The trust should work in partnership with Kate's parents to establish a fitting acknowledgement of the contribution they have made to the safety and quality of maternity services at [the trust]."
Ms Davies and Mr Stanton said the trust had tried to deny the truth for years. They said: "Until now, seven years and one month after Kate's death, the trust chose to look the other way and fight anyone who challenged their approach.
"A beautiful and perfect, adored baby girl lost her life avoidably, in horrific and lonely circumstances. The hospital did all they could to bury the truth, to bury Kate, and to bury us… and all because individual managers and midwives wanted to save their reputations."
Trust chief executive Simon Wright said the trust accepted it had failed Kate and had made substantial changes since her death.
He said: "Today's report makes difficult reading – even more so because it has only come about because of the determination of Richard and Rhiannon to bring to light the failures of the original investigation, the quality of care we should have afforded them and our failings in protecting Kate when she was at her most vulnerable.
"We believe that what we have been presented with is a fair and balanced report. The nature of the report's contents requires us, and other organisations, to ensure we are listening to families without them having to go to such lengths in order for their voices to be heard. We fully acknowledge the failings identified in this report and the harm they have caused to Richard and Rhiannon."