Richard Cookson on why hospital managers should pay more attention to local healthcare inequalities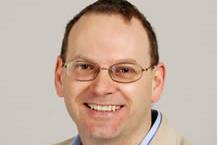 After Jesus restored him to life, Lazarus enjoyed a long and healthy life as a bishop. As far as we know, he never needed a subsequent emergency hospital visit.
Modern day Lazarus is not so lucky. The miracles of modern medicine and society are helping millions of people to avoid premature death. But many survivors are unhealthy – and vulnerable to health emergencies requiring accident and emergency admission.
Hence, demand for A&E services keeps rising.
This rising demand is fuelled by inequality. To put it bluntly, a poor "Lazarus" is much more likely to visit A&E than a rich "Lazarus".
Richer people tend to be healthier survivors. They are more likely to experience what epidemiologists call "compression of morbidity" – ie to enjoy healthy aging, followed by rapid decline and death.
The poorer you are, by contrast, the more likely you are to suffer protracted periods of severe multimorbidity – placing you at greater risk of repeated A&E admission.
Not just the poorest
Many A&E admissions are for people with chronic conditions such as cardiovascular and respiratory diseases, diabetes and dementia. These admissions are potentially preventable by NHS action to deliver more proactive coordinated care to chronically ill patients across primary and outpatient hospital settings.
Allowing for age and sex, people living in the most deprived fifth of neighbourhoods in England suffer nearly two-and-a-half times as many of these preventable emergency hospitalisations as people living in the least deprived fifth.
This is a problem affecting everyone in society, not just the poorest. There is a "social gradient" in A&E admissions, whereby the further down the social spectrum you go, the greater your chances of suffering an emergency hospitalisation.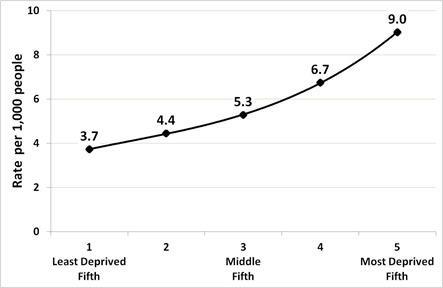 As the graph shows, preventable emergency admissions would be nearly halved if everyone had the same rate of A&E admissions as the least deprived in society. In other words, nearly half of emergency hospital admissions arise from social inequality.
Pressure on the NHS
My colleagues and I estimate that social inequality was associated with more than 158,000 preventable emergency hospitalisations in England in 2011-12 and nearly 38,000 deaths from treatable conditions.
Preventable emergencies are putting huge pressure on the NHS. The pressures are likely to increase in future decades, as health and social care continue to absorb an ever larger share of public expenditure due to costly new medical technology, people living longer with multiple illnesses, and wage inflation in the caring professions.
The NHS needs to develop new approaches to dealing with these pressures if it is to survive in its current form as a universal and comprehensive health system.
The aspiration of proactive coordinated care
The NHS is good at providing equal access to reactive care when people suffer a health emergency. But it needs to get better at providing proactive care to people before they suffer an emergency.
Hospital staff can play an important role in this. For example, hospital patients at risk of repeated emergency admission may need following up to check they are taking their medicines appropriately, or being cared for appropriately in the community, or being given appropriate advice and support to change their health behaviour.
Initiatives such as the Better Care Fund, new care models and the vanguard sites are steps in the right direction
Successive governments have correctly identified that the NHS needs to improve the coordination of care between specialties, between primary and hospital settings, and between health and social care. Current initiatives such as the Better Care Fund, new models of care and the vanguard sites are thus all steps in the right direction.
But there is a world of difference between setting policy aspirations and delivering measurable, beneficial improvements for patients.
Healthcare equity indicators can help
Generally speaking, people at the top of the social scale are good at proactively caring for themselves – they have access to the best information, the best support networks from family and friends, the nicest home environments in which to recover from illness, the sharpest elbows. Everyone else – including those in the middle, as well as the poorest – needs proportionately more help.
To give people the proactive care they need, therefore, NHS staff need better information about healthcare inequalities within their local area.
To help provide this information, we have developed health equity indicators for the NHS. We applied these indicators retrospectively to the NHS under the Blair/Brown government in the 2000s.
Some local NHS areas are doing significantly better than others at reducing healthcare inequalities
We found that investments in GP services led to improved primary care across all socio-economic groups, particularly among the poorest, between 2004 and 2011. There was, however, only a modest reduction in inequality in preventable deaths and admissions through A&E.
These indicators could be produced on a routine basis at local level to help NHS managers learn how to address this problem more effectively. Our research indicates that some local NHS areas are doing significantly better than others at reducing healthcare inequalities.
Detailed monitoring of local healthcare inequalities would allow managers to learn lessons about the most cost-effective ways of delivering proactive coordinated care.
Of course, the NHS cannot solve this problem on its own. A&E pressures are partly a barometer of wider social ills, and cannot be dramatically reduced unless Britain becomes more equal.
The need for wider action on health inequality, however, should not be used as an excuse for inaction by the NHS on healthcare inequality.
Richard Cookson is professor and NIHR senior research fellow, Centre for Health Economics, University of York