A&E performance for full A&E departments worst since targets were introduced
Attendances up by a quarter, admissions up by more than half
Thinktank warns performance could deteriorate further if more funding not found
The English NHS has recorded its worst yearly results for four hour waits in accident and emergency since the target was introduced.
Data released by NHS England* on Thursday showed 2015-16 performance against the target that 95 per cent of patients should be treated within four hours dropped to 87.9 per cent.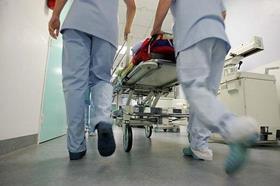 The total for attendances at type one full A&E units was lower than at any time since 2003-04, when performance was at 88.5 per cent.
Attendances have grown by a quarter in that period, from 12m to 15m, while admissions grew by more than half, going from 2.5m to 4.1m
Performance for all types of urgent care providers, including urgent care centres, was 91.9 per cent. The service missed this target for the first time since 2004-05 last year.
The Health Foundation think tank said that considering the financial pressure the NHS was under the performance was good.
Chief executive Jennifer Dixon said: "Considering the unprecedented squeeze in government funding of the NHS and adult social care, the figures today could have been worse. Thanks to the dedication and hard work of NHS staff, the majority of patients have been seen within target times. But if funding trajectories stay on the planned course set in the spending review, performance could deteriorate further. Is this what the public want?
"With rising costs, increasing productivity is key. This is as much an issue for the wider economy as for the NHS, yet answers are strangely elusive. This is an area where the government, business community and the NHS needs some collective thinking, and fast."
The number of 12 hour trolley waits fell slightly in 2015-16, from 1,243 the previous year to 1,015. However, this was still the second highest number on record.
Pennine Acute Hospitals Trust had the highest number in the country, with more than 70.
Six trusts took more than four hours to see a third or more of their attendances in the most recent quarter's data: West Hertfordshire Hospitals Trust; University Hospitals of North Midlands Trust; Hillingdon Hospitals Foundation Trust; East and North Hertfordshire Trust; Blackpool Teaching Hospitals FT; and University Hospitals of Leicester Trust.
NHS Improvement chief executive Jim Mackey said: "March saw the NHS treat a record number of patients in A&E and the highest number of emergency admissions to hospitals ever. Despite this, the system still managed to see 1.8 million patients in four hours, which is the most since July 2015. This creates a big challenge and we should recognise the hard work of front line staff in delivering care to so many patients.
"We are being told that more patients with minor illnesses are visiting A&Es which is adding to the pressure. We are working with the system to find out how we can best support work locally to treat patients in the right setting, in a more timely way and improve the way patients are discharged.
"Our focus needs to be on making sure that we are supporting front line staff to respond to this unprecedented level of demand and put in place real and rapid improvements for patients."
*Tableau representation by George Donald
Worst A&E performance since targets began
1

Currently reading

Worst A&E performance since targets began

2

3