Essential insight into NHS matters in the North West of England, with a particular focus on the devolution project in Greater Manchester. Contact me in confidence here.
Politicians, NHS regulators and, yes, the media, routinely focus too much energy and attention on waiting times — while ignoring efforts made to improve the underlying causes of poor health.
In his sign off as leader of Greater Manchester's 'devolved' health and social care system last week, Jon Rouse criticised this imbalance, suggesting much of the region's progress over the last four years has gone under-appreciated.
Although one might view this as a natural response to consistently poor performance against the highest profile waiting time standard (for accident and emergency, which GM was signed up to delivering), Mr Rouse surely has a point here.
While not denying the importance of the four-hour target (and the strong evidence that it saves lives), there are a host of lesser known but arguably just as important indicators that Greater Manchester has focussed significant energy and resources on.
In the next few editions, North by North West will attempt to quantify the progress, or lack of progress, that has been made across a wide range of indicators, including the waiting time standards.
Given the region's unique £450m transformation fund from the NHS, it seems fair to expect an above average improvement in GM across a range of areas.
The allocation of that funding makes it difficult to draw direct links and neat conclusions, because while half is easily tracked and linked to certain measures (more on that below), the other half was distributed to the 10 boroughs with their own priorities and programmes.
But when all considered together, the overall picture from the indicators could start to provide an impression of how successful the whole project has been so far, and how well the transformation fund has been spent.
In this edition, NxNW looks at five measures which give some indication of "early years" health. They are all areas which Greater Manchester has referred to in its own strategies and planning documents, and for which data was available to make comparisons.
Smoking during pregnancy
Of the five measures, this is the most directly related to specific investment that's been made. Smoking during pregnancy presents serious health risks to developing babies.
It presents a modestly positive picture for Greater Manchester, which can point to specific investment that started in 2017-18, and appears to have helped narrow the gap with the rest of England. GM has also made better progress than its immediate neighbours and the rest of the north.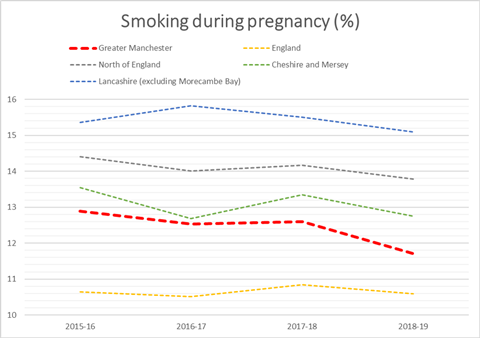 Source: NHS Digital
Low birth weight
One potential outcome of smoking during pregnancy is low-birth weight (under 2.5kg) which is associated with an increased risk of infant mortality, developmental problems in childhood and poorer health in later life.
GM seems to have had an alarming spike in low weight babies in 2017-18, some of which was cut back in 2018-19 after the specific smoking cessation investment was made. (I'm told the rate of stillbirths is actually now deemed a better indicator than low birth weight, but there are no figures yet available on that measure for 2018-19).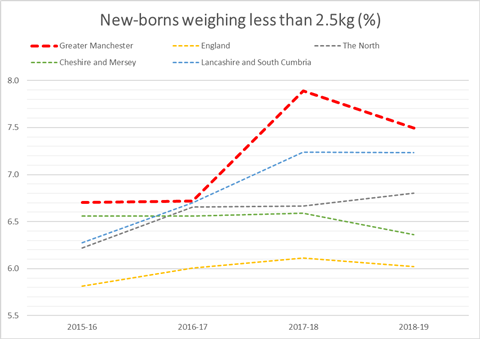 Source: NHS Digital
Oral health
This is another indicator that's had specific investment since 2017-18, which has gone into oral health packs for health visitors and daily brushing sessions in nurseries.
It's been focussed on four boroughs: Salford; Oldham, Rochdale; and Bolton. The best measure to look at would be tooth decay, but this data is only collected every two years so we'll have to make do with dentist visits for ages 0-5 (which are encouraged by the health visitors and nursery sessions).
Again, this appears to show a modestly positive picture, with the four boroughs doing better than Greater Manchester and its north west neighbours since the investment started, although England and the North have progressed at roughly the same rate. Annoyingly, the age-specific data only goes back to 2016-17, so it's not clear whether the four boroughs were already on an improvement trajectory.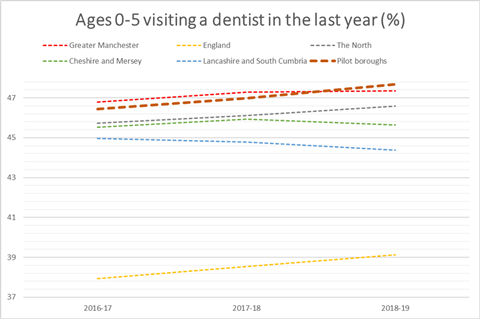 Source: NHS Digital
Childhood obesity
This doesn't show a good picture for GM. Despite childhood obesity, which carries a host of health risks, being routinely cited in their strategies and plans, the gap with the rest of England has widened.
It's not clear how much has been invested through the boroughs in reducing childhood obesity so far, but there has yet to be investment at a regional level.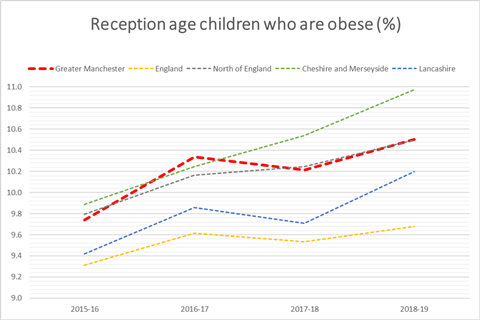 Source: NHS Digital
School readiness
This measures the proportion of reception age children achieving a good level of development across several areas, including communication, physical development, social skills and literacy.
This was a key priority for GM even before the devolution deal, with efforts focussed on children from more deprived households.
It shows a more positive picture, with an acceleration against the rest of the country. Though if you look at all reception age children (not just those receiving free school meals) GM is in line with the national average.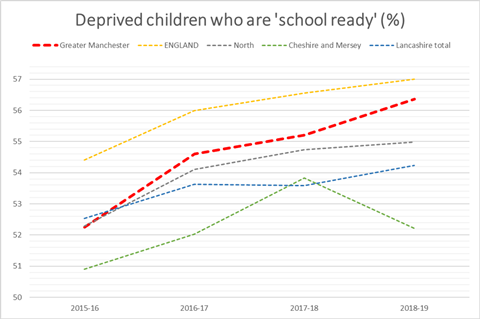 Source: NHS Digital. Measures children eligible for free school meals achieivng a good level of development at reception age.
Investments
About £270m of the transformation fund was distributed to the 10 boroughs in Greater Manchester, each of which had different priorities and programmes.
The devolution team suggested each borough was likely to account for their spending programmes in different ways, so it will be difficult to link them to the region-wide priorities.
The rest has been allocated at a regional level, including these investments in "early years":
£850k in smoking cessation for pregnant mums in the two years from 2017-18 (£1.9m by 2020-21);
£90k in reducing alcohol consumption for pregnant mums, which can lead to low birth weight, in 2018-19 (£1.6m by 2020-21);
£570k in 0-5s' oral health in the two years since 2017-18 (£1.5m by 2020-21);
£6k in school readiness in 2018-19 (£2.1m by 2020-21).
Caveats
Before you start to draw conclusions, a few caveats. First, the data is imperfect and can only take us so far. A positive trend is encouraging, but not necessarily evidence the investments have worked, because we may have seen the same trend without the investment. A negative trend is concerning, but not necessarily evidence that investments have failed.
Yet the data does provide a useful early indicator and starting point for further scrutiny.
Second, these five indicators only cover early years' health.
Wait to see the rest in forthcoming North by North Wests before deciding. You might think there would be benchmarking data readily available and easy to check, but tracking it down and collating it is a pretty laborious and fiddly process. So, bear with me.