Health and care professionals from the eight biggest cities outside London are collaborating to share expertise in tackling inequalities, reports Stuart Shepherd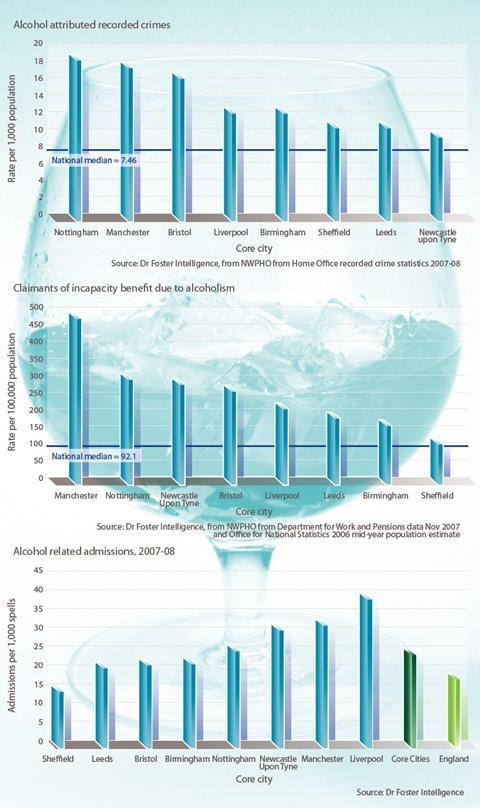 Health improvement collaboration: top tips
Collaboration tips
Consider what kind of network your organisation will get the most from being part of. Reflect on what common features it makes sense to collaborate on.
Keep the focus on positive deviance - what it is about good practice that makes it different - rather than what does not work.
Be clear about what kind of support specifications you are looking for - will your support partners offer organisational and logistics input, information and data analysis, design and planning?
Be prepared to invest in collaboration - it takes time and energy. Chief executives need to make this a priority - be seen to lead. If you don't, the point is lost.
The culture of picking holes in others' best practice, that instinctive search for reasons why a good idea from another trust can't be adopted, has, for a long time, been underestimated by even the most experienced of chief executives.
To get beyond such scepticism and move to "borrowing" and applying locally what works well elsewhere takes a lot of coordinated effort, as those at the top of the 10 primary care trusts involved in the Core Cities Health Improvement Collaborative have found.
It calls for a structured and driven cultural shift that emphasises learning from the positive, an open minded approach and curiosity.
The collaborative builds on the success of the well established network of local government leaders from eight of the largest cities outside London: Birmingham, Bristol, Leeds, Liverpool, Manchester, Newcastle, Nottingham and Sheffield. A two year programme began early in 2009 and focuses on six health inequality challenges:
"Collectively we have been doing poorly against the national service agreement and face very similar health improvement challenges," says NHS Birmingham East and North chief executive Sophia Christie.
"As well as sharing and wanting to do something about these similar demographics and markers of deprivation we are all commissioning from national or even internationally recognised hospital trusts while facing the challenge of driving health service transformation and cost reduction," she says.
"After several meetings looking at these areas of common interest and sharing information we moved to invest in some external support - from a consortium headed up by Finnamore health consultancy - to formalise and manage the network structure, the targets and processes of our collaboration."
Hosting events
The PCTs now take turns hosting events to look at themes of a particular inequality, profile work that will be of interest, share knowledge and visit local projects that bring the learning to life. Teams of 10-20 participants from each city include health professionals and colleagues from agencies including the local authority, health promotion, criminal justice, youth work, licensing and the voluntary sector.
There is more to it though than just giving people from a competitive environment the opportunity to share. At first this wasn't happening, but refinements to the planning have seen a significant shift in the tone and feel of the most recent events.
"We realised that people were coming to the meetings, looking at the data and expecting to find the magic bullet, says Core Cities project director Bruce Finnamore.
"We manage those expectations better now and bring more practical elements to the events. As a result we can see that people are trading information and talking to each other more freely. What they needed were the means to collaborate and this is what the programme has developed for them."
Case Study: NHS Bristol's alcohol team
Alcohol harm is complex and far more than just a health issue. There are a lot of different bases to cover (see graphs).
The team that Bristol put together to attend the Core Cities Health Improvement Collaborative event in Leeds demonstrated that and included people with responsibility for delivery from the police, licensing, trading standards and academics as well as specialist nurses, executive directors and the chief executive.
"When we saw something other cities were doing that we could do ourselves decisions could be made straight away and action taken when we got back to our day jobs," says NHS Bristol alcohol strategy manager Katie Porter.
Assembling their team of individuals allowed Bristol to agree more than 30 actions, including assessment of a care pathway, online training for probation and prison services and long term collaboration with colleagues in other cities.
FIND OUT MORE