Royal Brompton and Harefield FT has "exploratory discussions" with King's Health Partners about moving services to St Thomas' Hospital
Move would allow sale of lucrative land in Chelsea
Trust is one of three facing losing heart surgery services under NHS England proposals
A specialist hospital threatened with losing services by a national shake-up of heart surgery services could move to a site owned by another London trust.
The Royal Brompton Hospital in Chelsea, central London, is investigating relocating to St Thomas' Hospital, it was revealed at a public board meeting of Guy's and St Thomas' Foundation Trust last week.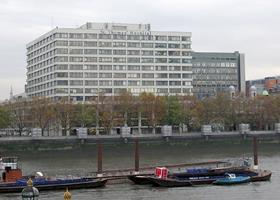 The move would see the heart and lung specialist leave its highly valuable site and potentially use the proceeds to build new facilities in Waterloo.
Royal Brompton and Harefield Trust, which has another site in west London, faces losing some of its services as part of NHS England's congenital heart disease surgery review. The trust says if it is forced to stop performing paediatric CHD work the knock-on effects would render other services unviable.
NHS England has said that by 2021 every hospital undertaking CHD surgery must have a team of four surgeons performing a minimum of 125 operations a year.
University Hospitals of Leicester Trust also stands to lose the services, and Central Manchester University Hospitals Foundation Trust will stop performing CHD surgery.
Royal Brompton and Harefield FT has previously investigated moving and considered sites in White City, Hammersmith Hospital, Cambridge and University College London Hospitals Foundation Trust.
NHS England has acknowledged the potential knock-on effects on paediatric intensive care units at Royal Brompton and Leicester, and accelerated a national paediatric critical care review.
A GSTT spokeswoman said: "King's Health Partners, which includes Guy's and St Thomas', King's College Hospital, South London and Maudsley FT and King's College London, is in early discussions with Royal Brompton and Harefield FT to explore the possibility of relocating the services currently provided at Royal Brompton Hospital to the St Thomas' Hospital campus. No decisions have been taken and any proposals would be subject to the approval of relevant boards, commissioner support and public consultation.
"The exact location of a cardiovascular institute on the St Thomas' site remains to be agreed as part of overall master planning for the St Thomas' campus."
A spokeswoman for Royal Brompton said: "We have had a number of exploratory discussions with King's Health Partners to explore the possibility of a formal working partnership in heart and lung medicine and research, which in the long term could operate from one combined site on the Westminster Bridge campus.
"Our hospital trusts already work closely across a number of clinical disciplines and there are many synergies between the three organisations. However, our discussions are not based on a simple change of location. We have identified the potential to create in the UK a ground breaking centre of excellence in cardiovascular and respiratory treatment and research, which would equal anything that exists in Europe, the USA and beyond. It is this opportunity to greatly enhance patient care and translational research in a new institution – that is the motivation for our continued dialogue.
"We are at a very early stage in our discussions. Should it become appropriate, we will of course share our progress with patients, commissioners, regulators and other stakeholders."
Source
Information obtained by HSJ