Royal Brompton and Harefield FT has "firm view" against CHD reconfiguration plans
NHS England expected to receive final recommendations in November
University Hospitals of Leicester says legal action has not been ruled out
A trust is warning of a potential redundancy bill of £13.5m if NHS England accepts proposals to close its congenital heart disease services.
More than 400 staff at Royal Brompton and Harefield Foundation Trust will be affected if NHS England accepts recommendations to stop CHD services, trust documents said.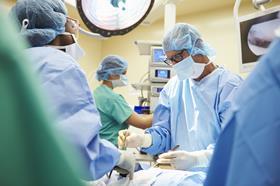 Under the original reconfiguration proposals, CHD surgery for adults and children would stop at Royal Brompton and Harefield FT and University Hospitals of Leicester Trust. The proposals are currently being evaluated by NHS England's specialised commissioning team.
Central Manchester University Hospitals FT, which does not perform children's surgery, has already declared CHD for surgery unsustainable after NHS England said it was "minded" to switch services to Liverpool Heart and Chest FT.
In its annual review 2016-17, Royal Brompton said it "firmly rejected" NHS England's proposals.
It said: "Over 400 whole time equivalent staff at Royal Brompton will be affected by the plan – the potential cost of redundancies could be in the region of £13.5m.
"The trust is of the firm view that this is an unnecessary restructuring of CHD provision, for which no evidence has been produced to show any resulting improvement in patient care.
"Implementation of the plans will involve considerable risk to current services and lead to the breakup of internationally renowned care and research teams."
The CHD review is the latest attempt to reshape congenital heart surgery, after the report into the Bristol heart scandal in 2001 highlighted shortages of key surgeons and nurses, and a lack of leadership, teamwork and accountability.
NHS England developed 13 standards for the services, including at least four surgeons carrying out at least 125 operations a year by 2021 and paediatric specialties co-located alongside CHD services by 2019.
"Level one" centres would be set up to carry out the most complex surgery. These would be: Alder Hey Children's Hospital FT and Liverpool Heart and Chest Hospital FT; Birmingham Children's Hospital FT and University Hospitals Birmingham FT; Great Ormond Street Hospital for Children FT and Barts Health Trust; Guy's and St Thomas' FT; Leeds Teaching Hospitals; Newcastle Hospitals FT; University Hospitals Bristol FT; and University Hospital Southampton FT.
NHS England was expected to make its decision last week after acting director John Stewart advised the specialised commissioning team to "do everything possible" to present its final recommendations to the board.
The final report on the consultation, which was delayed by the general election, is now expected in November.
However, NHS England faces the threat of legal action even if recommendations to close services are accepted.
HSJ understands any decision to close Leicester's service would be referred to the health secretary by health overview and scrutiny committees in the East Midlands.
If the decision is referred to the Independent Review Panel and it does not rule in Leicester's favour, the trust is likely to support any future legal action.
HSJ has been told that while the trust does not consider legal action to be in the best interests of patients or the wider NHS and is not "high on the list", the trust would "never rule it out".
More than 90 per cent of Leicester's specialist CHD staff said they would not relocate to Birmingham, meaning they would be lost to the specialism if the initial recommendations remain unchanged and the service is lost.
Source
Information provided to HSJ; trust annual review