NHS England wants to create regional radiotherapy networks
Royal Cornwall Hospitals Trust says plan is not in best interests of its patients
Royal college calls for investment in IT to prevent longer patient journeys
Leaders of an acute trust have argued that national proposals to centralise certain cancer treatments will result in worse care for its patients and cause shortages of specialist staff.
Royal Cornwall Hospitals Trust has come out against NHS England's plan to create regional radiotherapy networks. The national commissioning body said the reconfiguration will boost outcomes and "maximise the impact" of a £130m equipment modernisation fund.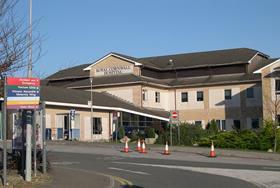 The proposals said 11 networks would be formed for patient populations of 3 million to 6 million, in which at least one specialist centre will provide treatment for rarer cancers.
It is hoped that this will tackle inequality in treatments offered across the country, as the quality of radiotherapy services can vary depending on how often a trust treats a type of cancer.
Royal Cornwall has said the plans would mean up to 200 patients a year needing to travel as far away as Bristol for treatment.
This would include patients who have uncommon cancers in the brain, head, neck, blood and pelvis.
Losing these patients would leave radiotherapy equipment at the trust "underutilised" and impact the trust's ability to recruit and retain specialist staff, chair Jim McKenna said.
While the trust said it endorsed the aim of "improving outcomes and reducing variation", it said adoption of NHS England's plan would not be in the best interests of its patients.
The concerns were highlighted in the trust's response to NHS England's consultation, which it published in its January board papers. More than 11,000 responses were submitted.
In the consultation document, NHS England acknowledged some patients with "less common and rarer cancers" may have to travel to a different centre. It said: "This is so that each patient can benefit from cancer specific clinical expertise, treatment protocols and techniques, clinical trial opportunities, and the associated specialist supportive care."
A spokeswoman for NHS England said: "The proposed new service specification will strengthen the requirement for local decision making through radiotherapy networks about how the best treatment pathways can be delivered within the local geography."
The Royal College of Radiologists said responses from its members were positive "in general" but also highlighted several "important concerns".
These included extended travel times for patients, a lack of indication as to how the networks will be funded, and a need for "significant improvement" in IT connectivity between trusts.
David Bloomfield, the RCR's medical director for professional practice, faculty of clinical oncology, said the college is concerned patients in low socioeconomic groups may be the most negatively affected as they may not choose the best treatment due to travel and accommodation costs.
He said the most important aspect for patients is their care is planned by doctors who often treat their type of cancer.
Dr Bloomfield said it was possible for this care to be planned by doctors across trusts in a network if there was an investment in IT infrastructure between trusts. This could enable patients to receive the treatment at their local hospital instead of travelling further to specialist centres.
"If this was going to work then the investment in IT would have to be absolutely core and it should be addressed first," he said.
He said networks would have to be careful to avoid "unintended consequences" such as new consultants only applying for jobs at specialist centres.
But he added: "There is a lot of good in the proposal. It's not about cost cutting but an opportunity to improve quality."
The college said it was not aware of any other trusts that have publicly responded with concerns like Royal Cornwall's.
Source
Trust board papers; NHS England consultation; information provided to HSJ