Exeter University's nursing academy aims to improve care standards in South West and beyond
Places will be funded by student loans
Mental health nursing and postgraduate courses will be offered in future
A nursing academy designed to attract and retain students with "exceptional academic ability" to improve patient safety is being launched at Exeter University in collaboration with local NHS trusts.
The academy, which will launch on 31 May, aims to train nurses who will "improve standards in the South West and worldwide", academy head David Richards said.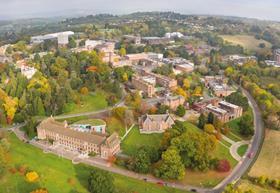 "Research shows that the higher the standard of nurse education, the lower inpatient death rates," Professor Richards added.
The academy will be run by the university in collaboration with Devon Partnership Trust, Northern Devon Healthcare Trust, Royal Devon and Exeter Foundation Trust, and Torbay and South Devon FT.
It will also support the development of existing nurses through seminars, mentoring systems and conferences.
Jane Viner, chief nurse at Torbay and South Devon FT, said: "The academy of nursing will enable our staff to be at the forefront of research, clinical practice and health policy leadership.
"The academy will be working alongside us to build education and research excellence in the region and nursing staff who join the academy will be empowered to find, use and produce the research evidence that ensures patients get the best care possible."
Paul Keedwell, executive of nursing and practice at Devon Partnership Trust, said as a Russell Group University, Exeter wants to "attract the very best [students] academically".
"The idea is we would attract and retain people who have exceptional academic ability, research awareness and clinical skills, and we will have a distinct offer to keep people in the system," he said.
Mr Keedwell said the academy will initially start by offering a three year adult nursing BSc and a mental health "top up" qualification, but said it would run a mental health course, postgraduate courses and specialist clinical practice modules in future.
He confirmed students would fund their place in the academy through student loans. He hoped there would be "positivity" around the course now the government has decided on a pay rise for nurses.
The government scrapped the NHS bursary for undergraduate nurses in August 2017 and earlier this year said postgraduate pre-registration nursing, midwifery and allied health professionals would access loans from the Student Loans Company, rather than a bursary.
Data published by NHS Improvement this year showed nearly one in 10 nursing posts was vacant across NHS trusts, prompting fresh calls from the Royal College of Nursing for a campaign to boost student numbers.
Source
University of Exeter