Royal Liverpool and Broadgreen University Hospitals Trust set to ask government for £300m to complete PFI hospital
Structural engineers have revealed a series of problems with existing structure
The 646-bed hospital was originally expected to open in 2017
An acute trust is set to ask government for £300m to complete building works on a former Carillion hospital, a meeting was told, after engineers identified a series of problems with the structure.
Royal Liverpool and Broadgreen University Hospitals Trust is preparing a business case to submit to ministers to finish building work on the new Royal Liverpool Hospital.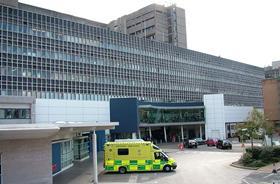 Finishing the former private finance initiative project is likely to take up a substantial portion of the provider sector's capital spending allowance.
The hospital was left unfinished when Carillion, the lead contractor, collapsed in January 2018.
As previously reported, the Department of Health and Social Care has already provided £76m of public dividend capital to the trust, with around half of that used to buy out the PFI contract. PDC does not have to be repaid, but results in an annual charge.
Since work stopped, structural engineers Arup have completed a survey of the building, which revealed a series of problems with the existing structure.
Alongside new contractors Laing O'Rourke, they have drawn up a programme of remedial work that includes strengthening concrete beams and replacing cladding. This involves stripping back areas that were nearly complete to gain access to the core structure.
At the trust's most recent board meeting at the end of July, Geoff Stewart, a non-executive director who chairs the trust's new hospital committee, said it was estimated that another £301m would be needed to complete the 11-storey building.
However, a full breakdown of the funding needed to complete the project and the amount of public money spent so far have not been made public.
A spokesman said: "The full business case for the new Royal will include the cost of completion. This hasn't yet gone to the board so until then, we do not have a cost to complete the building available. We do intend to share details once they have been finalised."
It is also unclear what the trust's business case will propose in terms of repayment of any further capital provided by the DHSC.
In the initial PFI deal, the work to build the new hospital was originally estimated to be worth £335m, with demolishing the old hospital and landscaping works worth another £95m. These bills would have been covered by the trust's making annual unitary payments spread over 30 years.
The government has already given outline commitment to funding completion of the project, but estimates of the cost have steadily risen as more defects emerged.
The 646-bed hospital, which stands next to the old Royal, was originally expected to open in 2017, but there have been several delays and there is currently no expected opening date.
The situation also means the trust is having to pay two sets of maintenance bills. It has set aside £2.5m for maintenance and repairs on its existing 40-year-old hospital in 2019-20, while also having to maintain aspects of the new building. The trust is due to merge with Aintree University Hospital Foundation Trust in October.
The HSJ Strategic Estates Forum, now in its 3rd year, takes place in London on 12 March 2020. This is a high level strategic forum that brings together estates directors, sustainability and transformation partnership estates leads and trust board leaders responsible for the estates function who are developing strategic plans for their organisations and local health economies. The focus of the forum is on issues such as availability of and access to capital, tackling backlog maintenance, utilisation of the estate and role of technology in infrastructure development. The forum builds on the Naylor Report and highly anticipated 2019 Spending Review. Register your place at this free to attend event on our website: https://strategicestates.hsj.co.uk/register-your-interest-2020