Stephen Bridge has been chief executive of the leading specialist trust since 1993
He cites growth and securing approval for new hospital site as main acheivements
He will remain in post until later this year, most likely around April
Papworth Hospital Foundation Trust chief executive Stephen Bridge, one of the NHS's longest serving leaders, is to retire.
The well regarded manager will have led the cardiothoracic trust for 23 years by the time he leaves later this year, likely to be in April, after taking over in 1993.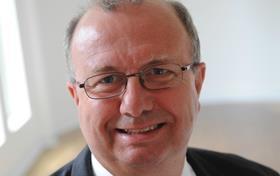 Mr Bridge told HSJ he wanted his successor to have time to be fully prepared to oversee and then "bed in" the trust's move to a new £165m hospital next to Addenbrooke's hospital in April 2018.
"We are moving to the [Cambridge Biomedical Campus] in two years' time. [It would be good if] whoever does the job next is here for about 18 months before the move and then a year after to bed it in.
"I will be nearly 64 by the time we move to Cambridge so… it's time to hand over to next generation."
He added: "I have been extremely lucky and have really enjoyed the job. During my time at the trust the number of patients seen a year has grown from 7,000 to 107,000 and staff [employed] from 400 to 7,000. I am proud of overseeing growth but not compromising quality or finances in the process."
Mr Bridge said he was also proud to have overseen the protracted process of securing the hospital's move to a new 310 bed facility in Cambridge, "which took 13 years from start to finish".
The trust is scheduled to move to the new Papworth hospital site in April 2018 after finally securing the go-ahead to move from its aging campus to what will be a state of the art facility next to Cambridge University Hospitals Foundation Trust, in March 2015.
In a short trust statement Mr Bridge told staff today that chairman John Wallwork would "send out further information regarding interim arrangements and timescale for the appointment of my successor".
Mr Bridge's 23 year stint in one chief executive role is one of the longest ever in recent NHS hospital management.
Other long serving chiefs include Sir Leonard Fenwick, chief executive of Newcastle upon Tyne Hospitals FT since 1977, and Sir Andrew Morris, chief of Frimley Health FT since 1989.
Mr Bridge joined the NHS in Ipswich in 1976 and held a variety of management positions at regional and district level. He moved into hospital management in 1984, as director of operational services/deputy unit general in the acute hospital sector in the West Midlands. He is a director of Cambridge University Health Partners.
He became unit general manager of Papworth Hospital in 1988 and was then appointed chief executive in 1993, when the hospital gained NHS trust status.
Source date
Information supplied to HSJ