James Scott has worked for the NHS for 36 years
Has been Royal United Hospitals Bath Foundation Trust CEO for 12 years
The chief executive officer of Royal United Hospitals Bath Foundation Trust is to retire.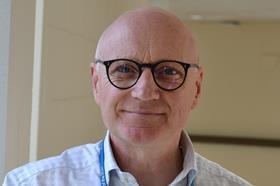 James Scott has worked in the NHS for 36 years, including 21 years as a hospital CEO. He has been chief executive at the South West trust for 12 years.
During his tenure, the trust achieved "foundation" status and took over specialist provider Royal National Hospital for Rheumatic Diseases FT.
The trust agreed to ally with two other South West acute trusts last year: Great Western Hospitals FT and Salisbury FT.
Alongside his role as trust CEO, Mr Scott led the Bath and North East Somerset, Swindon and Wiltshire Sustainability and Transformation Partnership for more than a year. He was senior responsible officer of the STP before stepping down in the summer of 2017.
Mr Scott told RUH staff it had been a "privilege" to be CEO. He said he was "proud" of staff's "resilience, commitment and determination," as well as the level of care shown to patients and their families.
Trust chair Alison Ryan said: "James has been a dedicated and passionate CEO for 12 years and his departure will mark the end of era for all of us at the trust.
"It has been an absolute pleasure to work with him and every single person at the RUH wishes him all the very best for the future."
Mr Scott is due to leave his post in March 2020. A search for his replacement is likely to begin later this year, a trust spokesman told HSJ.
Source
Royal United Hospitals Bath Foundation Trust announcement
Source date
September 2019