Health oversight and scrutiny committee criticises trusts' failure to agree on the delivery of cancer services in Sandwell and west Birmingham
Thousands of patients will travel to neighbouring hospitals until at least 2019, after UHB pulls service amid disagreement
Comes after years of consultant discontent with the service, multiple reviews and regulatory intervention
Two West Midlands trusts have been accused by councillors of "playground politics" in their ongoing failure to agree on the delivery of cancer services.
University Hospitals Birmingham Foundation Trust pulled its oncology consultants out of Sandwell and City hospitals in October, citing longstanding complaints about "operational standards" and disagreement over "stranded costs".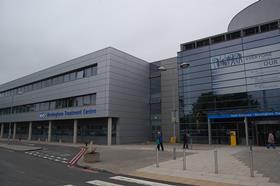 Since then, most of the 2,600 oncology outpatients and chemotherapy patients previously treated at the hospitals, run by Sandwell and West Birmingham Hospitals Trust, have had to travel to Queen Elizabeth Hospital in Birmingham, run by UHB, or Wolverhampton.
Both trusts and NHS England went before the joint Sandwell and Birmingham councils' health oversight and scrutiny committee last week to explain the dysfunction in the service and how they would restore services at Sandwell and City hospitals.
At the meeting, it was revealed patients are unlikely to return to either hospital until at least 2019 and the withdrawal had undermined the viability of some other cancer services still provided at the Sandwell and West Birmingham sites.
Sandwell councillor Bob Lloyd said it was "almost unbelievable" that after years of disruption, the trusts and commissioners expected it would take another year to develop a long term plan to provide the service locally.
He said: "In the end, it is the people of Sandwell and Birmingham that will suffer for that period.
"It's playground type politics this is; it's bizarre."
Birmingham councillor Deirdre Alden said the handling of the service was "laughable" and moving patients to the already busy Queens Elizabeth Hospital was not a sustainable solution.
"It's ridiculous; you have a serious problem, you need to deal with it," she said.
Other service affected by withdrawal of UHB consultants include acute oncology, which is expected to struggle to continue at Sandwell and City hospitals with fewer specialists.
Sandwell and West Birmingham chief executive Toby Lewis said there would be a significant "reduction in scale" of the acute service in 2018.
The trust will also likely no longer provide gynaecological cancer services after a decrease in income.
NHS England is considering a bid by a consortium comprising UHB, Birmingham Women's and Children's FT and the Royal Wolverhampton Trust to take over the service.
"In 2018, there will be a very different cancer service for our patients," Mr Lewis said.
He said the service remained safe if "suboptimal", but nevertheless had been subject to a significant amount of regulatory intervention over the years following complaints from UHB.
Mr Lewis added: "There are probably few services in the NHS that have been more scrutinised but there are no safety concerns."
However, Scott Hancock, the project lead for oncology at UHB, said the trust had raised concerns about services in Sandwell and City hospitals since 2012, including with regulators, to little effect, before withdrawing last year.
These included concerns about funding, the ratio of patients to consultants and poor IT systems.
Over the years, several proposals to redesign the service have been abandoned when the trusts failed to agree or they were vetoed by NHS England, Mr Hancock said.
He added that a new plan was needed urgently. "We've agreed to provide this service for 12 months, we want to be really clear about that.
"We do need to know what the future of these services are," he said.
Both trusts were approached for additional comment.
Source
Committee meeting and papers
Source date
25 January 2018