University Hospitals Birmingham FT withdraws oncology consultants from Sandwell and West Birmingham Hospitals Trust sites
Service closure means patients will need to travel to Queen Elizabeth Hospital in Birmingham or Wolverhampton
UHB raises concerns about "operational standards" and staffing for the service.
A major teaching trust is pulling its oncology consultants out of two neighbouring hospitals because of longstanding concerns about their "operational standards" – meaning the service will close this month.
Oncology outpatients and chemotherapy patients treated at Sandwell and City hospitals – run by Sandwell and West Birmingham Hospitals Trust – will need to travel to Queen Elizabeth Hospital in Birmingham or Wolverhampton as a result of the withdrawal by University Hospitals Birmingham Foundation Trust.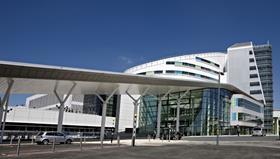 Without further intervention, the service will be phased out from 22 October with patients moved to other trusts over the next few months.
The decision comes after UHB, which runs Queen Elizabeth Hospital, gave notice that it would be exiting a service level agreement with Sandwell and West Birmingham to provide consultants at the hospitals.
Despite last minute talks with NHS England and NHS Improvement, the trusts failed to reach a compromise that would salvage the agreement.
A UHB spokeswoman said the trust had spent three years trying to fix shortcomings around staffing and the "operational standards" of the service, first raising the issues in August 2015.
Efforts to resolve these problems had "not reached a conclusion and therefore the current situation is unsustainable", she said.
"Various options were put forward by UHB to provide an ongoing service at Sandwell and West Birmingham. However, the commissioners and NHS Improvement were unable to make a decision on these proposed models," the spokeswoman added.
In a statement, NHS Improvement confirmed "changes" would be made to the service "due to the unsustainability of staffing at the Sandwell and City sites".
"Patients will shortly be referred to the region's cancer centre at UHB for their outpatient appointments and chemotherapy, or to the Royal Wolverhampton Trust if that is more convenient for them," it added.
The withdrawal has also prompted a review of cancer services to "look at the long term options for oncology services across West Birmingham and the Black Country", NHSI said.
A spokeswoman for the regulator said patients would be informed directly but refused to respond to further questions regarding the service closure.
Sandwell and West Birmingham refused to respond to HSJ's questions.
In November 2015, it was reported locally that UHB would withdraw its oncology consultant in March 2016, however the service continued for a further 18 months.
At the time a trust spokesman said Sandwell and West Birmingham was "not prepared to meet the cost of sufficient consultant time to run a service which UHB clinicians and managers believe could offer an appropriate level of quality and safety".
In board papers published last week, Sandwell and West Birmingham blamed excessive waits in its oncology clinic on UHB not replacing staff.
While NHSI had sent a manager to "facilitate communication with UHB clinical team and improve perception of performance", the staffing shortages remain "critical", the papers said.
Source
Information provided to HSJ