West Midlands mayor Andy Street has urged ministers for "swift intervention" to help get a stalled hospital project back on track following Carillion's collapse.
While a preferred new contractor has been found to build the 669 bed Midland Metropolitan Hospital on behalf of Sandwell and West Birmingham Hospitals Trust, the government is keen for other options to be explored.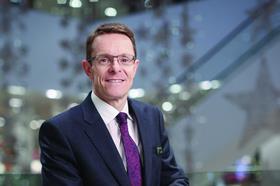 However, in a letter to Cabinet Office minister David Lidington, Mr Street warned the project is of "critical importance to the West Midlands". The letter constitutes Mr Street's highest profile intervention so far on issues unrelated to the economy, housing and transport.
In the letter, seen by Local Government Chronicle, Mr Street said: "I am grateful for the support government have demonstrated in helping the West Midlands handle the fallout of Carillion. However, I strongly believe swift intervention is now required on this specific issue."
Mr Street said Skanska had been identified as a "preferred replacement contractor" for the works but added: "I acknowledge there are other alternatives which may be preferred, for example a wholesale reprocurement of the PF2 contract or self-delivery under another form by the trust.
"However, I share some of the trust's concerns about the time this would take. This would cause a potential delay to moving to the new site, with inevitable knock-on for medical services."
The Midland Metropolitan Hospital was due to open next year and will replace many services currently provided by City Hospital in Birmingham and Sandwell Hospital.
Using Skanska could result in the project being completed in the first quarter of 2020, Mr Street said. Both he and the trust believe "we should progress this route unless there are clear, timetabled alternatives that can be laid out over the next two weeks".
During prime minister's questions this week, Warley MP John Spellar urged Theresa May to "get a grip on her ministers and officials and get a decision, get a deal and get this hospital built".
Ms May said there had been delays to the project "even before the issue arose with Carillion" but added "the Department of Health and Social Care is working actively on it" along with Mr Lidington.
"We recognise the level of concern being raised on this issue and we are working to resolve it," she said.
Mr Street said he was "encouraged" by the "reassurances that this is being taken as a priority at the top of government" but added: "I believe we need to act quickly and ensure the people of Sandwell and West Birmingham have the hospital facilities they deserve. This requires further support from government."
Source
Letter to the Cabinet Office