New standards issued on how to divert minor injuries away from A&E to co-located services
NHS England requirements must be met either by Easter or September
Measures are intended to alleviate A&E pressure
NHS organisations have been given months to meet new "minimum requirements" for diverting accident and emergency attendees with minor injuries to co-located, GP led primary care services.
System leaders issued guidance to regional NHS England and NHS Improvement teams this week, setting out standards for providers and clinical commissioning groups.
The requirements must be met by Easter for areas that already have a co-located urgent treatment centre, or September for areas that do not have a UTC or streaming processes in place that match the standards.
HSJ understands that system leaders are aware that robust streaming processes already exist in many parts of the NHS. However, there is a view that shoring up places where sufficient arrangements exist can be one of the raft of measures required to relieve the pressure on emergency departments.
The guidance document, seen by HSJ, says the "minimum service requirements" for the UTC include:
a service operational from 8am to 11pm (365 days a year);
emergency department streaming – one band 7 nurse;
a GP clinic;
two GPs available (for quiet periods this can be one GP, and increased if required);
one clinical nurse; and
one healthcare support worker.
It also sets out space requirements:
two consulting rooms;
a clinic room (which can also be used as a third consulting room);
a small waiting area; and
no diagnostics.
It says Luton and Dunstable University Hospital Foundation Trust, whose chief executive Pauline Philip is also NHS England's national urgent and emergency care director, is a best practice exemplar model, and "similar models" should be established elsewhere.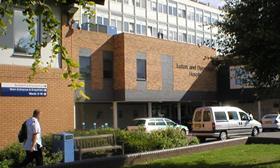 The document says: "During the hours of opening, the urgent GP service [in Luton and Dunstable] sees around 40 per cent of patients who walk into the department. In order to establish a similar model elsewhere, the principles set out in the following pages need to be considered."
It then sets out requirements for front door processes, referral processes, commissioner requirements, governance structures and clinical criteria.
The move follows system leaders delaying an announcement of an overhaul of emergency care targets, originally slated for last month, until after next week's budget.
It is hoped the chancellor's announcement will include some form of resource for social care, which would help with delayed transfers of care and A&E flow.
HSJ understands the package of measures planned by NHS England included setting out how a new high profile indicator for the A&E system would work, a shake-up of 111 and out of hours services, and changes to ambulance response time measures. It is expected that further announcements will be made in the coming months.