Spending on general practice will increase by 14 per cent in real terms by 2020-21, NHS England has claimed as it launches a five year GP strategy.
The General Practice Forward View said the sector's proportion of NHS spending "should reach over 10 per cent by 2020-21, and will rise further as clinical commissioning group investment in general practice rises also".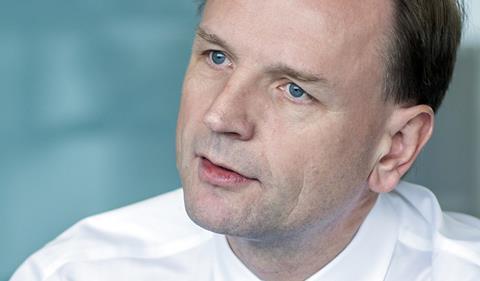 The document, published on Thursday, said "investment will rise from £9.6bn a year in 2015-16 to over £12bn a year by 2020-21".
The total budgets set nationally for primary care in December – including non-GP services like dentistry and ophthalmology – are £7.7bn in 2015-16 and £9.2bn for 2020-21, and the makeup of NHS England's larger figures is unclear at present.
NHS England chief executive Simon Stevens told HSJ the difference was accounted for by commitment of some "nationally held funding streams… things like technology investment [and] the sustainability and transformation fund".
The proportion of total Department of Health funding spent on general practice has fallen for several years. DH-reported spending on general practice indicates it was around 6.2 per cent of the total in 2014-15, while Health and Social Care Information Centre figures for general practice investment put the figure at 7.3 per cent.
Mr Stevens said some of the funding growth should go to support day to day delivery of general practice, while some should be used to incentivise shifts to new care models, such as through forming federations or super-practices.
"We've got a balance to strike here between providing support and relief for the vast bulk of practices which are under the cosh, versus targeting extra funding to incentivise more practice groupings," he said.
He said some investments, such as funding for more pharmacists to work in practices, would be spread widely. Others would be more directed, he said, such as premises development funds that NHS England will "increasingly target at larger groupings who can demonstrate the kind of scale impact they can have".
Asked whether the funding plans would mean larger annual increases in core GP income than have been seen in past years, he said: "I'm not setting a percentage figure… but implied in this funding growth is a sense we've got to [turn around the reduction in the share of funding going to general practice]."
Mr Stevens said the strategy sought both to stabilise existing general practice and press for reform. "We can't afford a situation where… in some parts of the country practices [are] packing up shop [which leads to] immediate consequences for patients and for hospitals and other parts of the NHS.
"That is something we've got a shared interest in avoiding. But I also do believe that because GPs backs are against the wall, there is now more of a consensus for radical change in the way general practice is provided than there has been certainly in my 28 years in the NHS."
The General Practice Forward View lists a large range of moves to bolster and develop general practice – some have been announced before, some are expansions of previous schemes, and some are new.
The most significant proposals include:
Introducing "3000 new fully funded practice-based mental health therapists, an extra 1,500 co-funded practice clinical pharmacists".
Proposals to remove a cap on NHS England's funding of premises developments, to allow it to pay for the full cost.
New funding, rising to £500m in 2020-21, via clinical commissioning groups, to pay for extended primary care access, including in evenings and at weekends.
Consult by July on proposals to curb growth in indemnity costs, including a scheme to cap the level of recoverable costs for claimant lawyers on clinical negligence claims; and a role for future multispecialty community providers to hold corporate indemnity.
Once the Care Quality Commission has rated all GP practices - due by next April - it will move to a risk-based approach. The document says "practices rated good and outstanding - currently the vast majority - will move to a maximum interval between inspections of five years, subject to the provision of transparent data, available to CQC, NHS England and CCGs". This will "reduce the workload related to inspection for those practices that deliver good or outstanding care". HSJ revealed the plan earlier this month, and similar ideas have been trailed by the CQC over the past year.
NHS England will ask CCGs to provide £171m "practice transformational support", to develop at scale provision to extend access; help free up GP time; and "secure sustainability of general practice".
Professor Nick Harding, a GP at the Modality Partnership superpractice in Birmingham, and chair of Sandwell and West Birmingham CCG, said the document "provides a welcome and much needed investment into primary care". He said: "It is also heartening to see that primary care is being given the attention it deserves for the potential it can bring for patients when invested in properly. General practice has much to offer in terms of managing care and demands but needs to be equipped to do this. If we are able to deliver these plans, this will provide a much needed boost in confidence to our profession and services".
HSJ has asked NHS England for clarification of the spending plans.
Stevens promises big increase in GP spending
1

Currently reading

Stevens promises big increase in GP spending

2

3