Ipsos MORI research suggests public sympathy with the junior doctors comes with some big caveats, as Anna Quigley and Harry Evans explain
On 12 January we saw junior doctors strike for the first time in 40 years, withdrawing their labour from all but emergency care. An Ipsos MORI poll with HSJ and Newsnight was the first to assess whether the junior doctors had been successful in one key objective: winning the sympathy of the general public.
Broadly speaking, the news for the junior doctors is positive – a substantial majority of the public are behind them. Two-thirds of the public say they support the junior doctors if they still provide emergency care, and just one in six opposes the strike.
"Support for the doctors drops steeply to less than half if they do not provide emergency care"
So, junior doctors have the support of the public, and they can have some confidence that this might be an effective bargaining chip when negotiations re-open. However, our data also raises some concerns for the planned all-out strike on 10 February. Support for the doctors drops steeply to less than half if they do not provide emergency care, even on the basis that it would still be provided by other staff.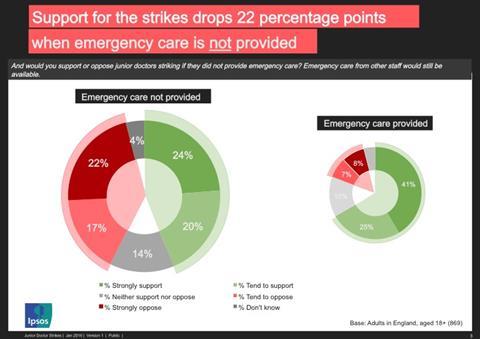 While it is still the case that more support than oppose the action, this suggests that the solidarity we saw with Tuesday's strike might begin to evaporate should the third strike take place. This dramatic drop in support has a precedent elsewhere.
In 2003, Ipsos MORI asked about support among the public for firefighters going on strike. Support on this occasion was heavily hit by the suggestion that firefighters might not respond to emergency calls.
Nevertheless, sympathy for the junior doctors is high, potentially because of the public's understanding of the cause of the dispute. When asked to name the reasons for the strike, most mentioned either working conditions, such as long hours or pay.
However, the most popular single reason was the long hours. This suggests the public think of junior doctors as overworked, rather than overpaid and greedy. And these beliefs are closely linked to support. Those who support the strikes are more likely to mention the working conditions of doctors than those who oppose the strikes, but both supporters and opponents of the strike talk in equal measure about doctors striking over pay.
This appears to be key to winning public support. Other messages, such as the specifics of changes to overtime pay and patient safety are barely touched on. Similarly, political reasons about disagreeing with the government, or disagreeing over seven day services have not cut through to the public.
There are messages in this research for both sides for the coming weeks. There is genuine widespread sympathy for hard working junior doctors, but this could be jeopardised by withdrawing emergency care. This suggests that drawing out this dispute could make losers out of everyone involved.
Anna Quigley is research director and Harry Evans research analyst at Ipsos MORI